Once again, UUWR will partner with UU Women's Federation to bring the UUWR Store, The Red Tent, and more to the GA Exhibit Hall.
GA2020 - Providence RI - June 24-28
We have need for two volunteers! We will pay up to $150 for 10 hours' work during the week. Hours could include help with setup on Tuesday, or take-down on Sunday afternoon. Email Gretchen if you are interested!
Specific tasks:
Hang banners in back of booth
Put tablecloths on tables
Unpack and lay out books and CDs on tables
Find creative ways to display other goodies like Goddess figurines and jewelry
Staff the booth periodically throughout the GA
Learn how to "ring up" purchases using PayPal card/chip swiper
Help keep track of inventory
Engage with people and guide them to appropriate information about UUWR, UUWF, and UU women's retreats around the continent
Invite people to join UUWF for a donation of any amount
Let people know about the UUWF breakfast and the Sermon Award winner
Exhibit Hall Hours (subject to change without notice)

SET UP:
Tuesday, June 23 9:00 a.m. – 5:00 p.m.
Wednesday, June 24 9:00 a.m. – 12:00 p.m.
OPEN:
Wednesday, June 24 12:00 p.m. – 7:00 p.m.
Thursday, June 25 11:00 a.m. – 7:30 p.m.
Friday, June 26 11:00 a.m. – 7:30 p.m.
Saturday, June 27 11:00 a.m. – 7:30 p.m.
*Sunday, June 28 11:30 a.m. – 2:30 p.m. *open to the public
PACK UP:
Sunday, June 28 2:30 p.m. – 8:00 p.m.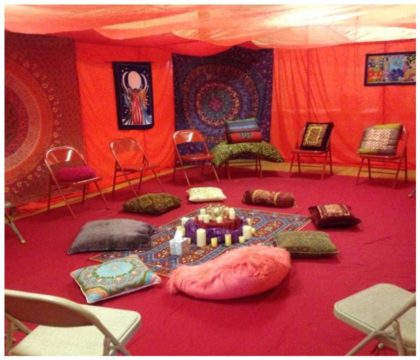 Our Red Tent this year will be hosted by Nancy Rogers and the Red Tent from the Unitarian Church of Marlborough and Hudson, MA, who began our Red Tent series back in 2014!
Hudson, MA Red Tent Gatherings: Celebrating Over 8 Years of Sharing Our Stories and Creating Community!
The Red Tent movement, inspired by Anita Diamant's best-selling fictional story, The Red Tent, supports women in reclaiming the gifts of community as we gather together to co-create intimate, woman-centered, restorative, secular, confidential Safe Space. We practice and receive Deep Listening that we may be present with our Authentic Selves. There's never an obligation to share: this time is for YOU! Just come to absorb the loving vibes of WomanSpace, if you like.
"You are not a drop in the ocean. You are the entire ocean in a drop." — Rumi