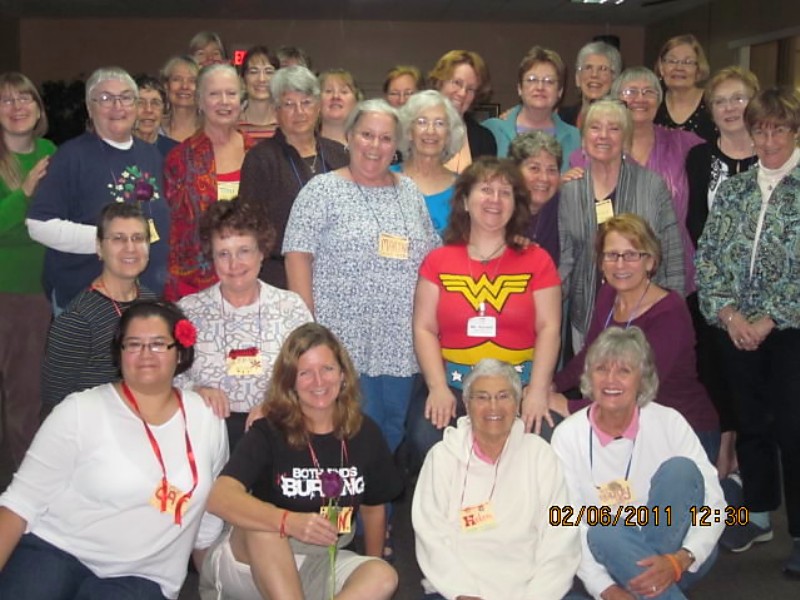 "Great planning and presentation! Wonderful inclusion of participants! Collage activity was a delightful journey along the path of individual creativity and self-expression." What a wonderful experience." "Great weekend." "This has been an enriching experience." "Time to reflect,time to share, time to be joyous and time to be creative. I loved the ritual, the meditation and the creative activity." Thank you, this has been a wonderful way to connect with other women." "By the time the date arrived for this retreat, I really had not wanted to come. I must say I am leaving with energy and sorrow that it is over. Thank you." "Loved the music, loved the collage, and unfortunately loved the food!" "Perfect weekend." "What a marvelous way to join with otherUU women in spirit, song and feast."
These comments, written by some of the 36 participants at the women's retreat hosted by the Northeast Cluster of the Florida District of the UUA February 4-6 in Oviedo Florida, tells better than any other narrative what a positive experience the women shared at the retreat. A total of twelve congregations were represented from the district; ten from the Northeast Cluster. The weekend came to a close with participants expressing their interest in and volunteering to plan a retreat for 2012. Blessed be !
http://necluster.uufg.org/ Contact Allie Gore if you would like to know more.