The following text is from the traveling display, which contains ten 24-inch x 18-inch foam core panels. The display is available for exhibition in your location.

ORDERING information.



The author and designer of the display is Bonnie Hurd Smith, graphic designer, public historian, and author/publisher of books on Judith Sargeant Murray and other historical subjects.
Introduction
Author, editor, journalist, literary critic, educator, friend of the Transcendentalists, social commentator, women's rights advocate, and political revolutionary, Margaret Fuller left an indelible mark on Western civilization during her short forty years.
Today we consider Margaret Fuller one of the guiding lights of the first wave of feminism. She helped educate the women of her day by leading a series of Conversations in which she empowered women to read, think, and discuss important issues of the day. She influenced generations to follow through her classroom teaching, groundbreaking writings, especially her landmark book Woman in the Nineteenth Century, and through her personal example of independence and courage.
Fuller's bold public voice began to emerge in New England, but in her work for the New-York Tribune, which she transplanted to Europe, Fuller's calls for liberty and equality for all people internationally established her as a transcontinental literary ambassador.
Among her accomplishments:
First American to write a book about equality for women
First woman foreign correspondent and first woman war correspondent to serve under combat conditions
First woman journalist for Horace Greeley's New-York Tribune, and first woman literary editor of a major American newspaper
First editor of the Dial, the Transcendentalist journal, making her the first woman in America to edit an intellectual publication
First woman literary critic who also set literary standards for American writers
First woman to enter the Harvard College library to pursue research
Margaret Fuller matters because her all-encompassing, inspiring, and still unrealized vision--aimed at the future--challenges us to continue her work and honor her legacy.
Quote:
From Woman in the Nineteenth Century:
"If you ask me what office women may fill; I will reply--any. I do not care what case you put; let them be sea-captains if you will ... We would have every arbitrary barrier thrown down. We would have every path laid open to woman as freely as to man ... Can we wonder that many reformers think that measures are not likely to be taken in behalf of women, unless their wishes could be publicly represented by women?"
Foundations
Sarah Margaret Fuller, born on May 23, 1810, in Cambridge, Massachusetts, was the oldest child of Timothy Fuller, a Harvard-educated attorney, and Margarett Crane Fuller. With the death of an infant sister, young Margaret was an only child for several years and the center of her father's attention in particular.
Timothy Fuller planned a rigorous course of study for his daughter. "To excel in all things should be your constant aim," he told her. "Mediocrity is obscurity."
By the time Margaret was 3 1/2 years old, Timothy was teaching her how to read and write; at 4 1/2, he taught her arithmetic; just before the age of 5, she learned English and Latin grammar. Even when Timothy Fuller was elected to the U.S. Congress and spent many months in Washington, D.C., he directed Margaret's studies by mail. Margaret also read voraciously: political philosophy, great European authors and playwrights, ancient and recent history, travel, biography, and even novels -- much to her father's consternation.
When Timothy Fuller was at home, father and daughter conversed in the evenings about what she was learning. "In the process," biographer Joan von Mehren explains, "Margaret developed a well-stored mind, a remarkable facility with the spoken word and foreign languages, and the exhilarating sense that she was very alive under tension."
Fuller's childhood home, 71 Cherry Street, Cambridge
(Cambridge Historical Commission)
Margaret's father stressed analytical skills, logic, and "the correct use of language, "according to von Mehren. Timothy Fuller's goal was to have his daughter develop "a secure and favored place in an ordered republican society" that was consistent with his Enlightenment values.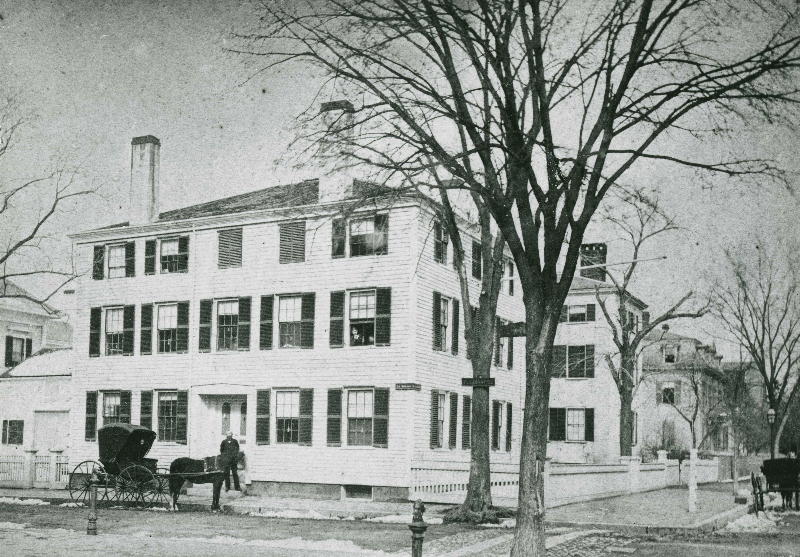 The Port School, 760 Massachusetts Avenue, Cambridge
(Cambridge Historical Commission)
At age 9, Margaret attended the Cambridge Port Private Grammar School ("The Port School") whose master was a Harvard graduate. By age 10, she had command of the standard classics in translation and was beginning to learn French. She was known as the "smart one," according to classmate Oliver Wendell Holmes. The following year, Margaret attended Dr. Park's Boston Lyceum for Young Ladies where she was ridiculed for her "country ways." She was now studying Italian, French, and geography, and attending dancing school.
Fearing their daughter's potential "unmarriageability," the Fullers sent Margaret for a brief time to Susan Prescott's more traditional Young Ladies' Seminary in rural Groton, Massachusetts. But she soon returned to The Port School to study Greek and Latin. Eventually, at the age of 15 and with her father's assistance, Margaret Fuller created her own course of self-study, which included lessons with the author Lydia Maria Francis (later, Child).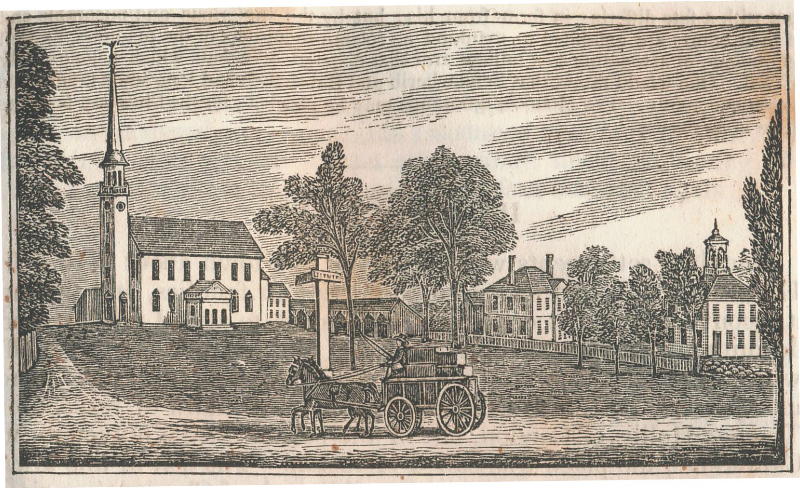 Groton, Massachusetts
Margaret became friends with a group of young Harvard students who were caught up in a heady time of intellectual, literary, and theological activity at the college. German philosophy, literature, and poetry were the "craze," and many of these young men (James Freeman Clarke, Frederic Henry Hedge, William Ellery Channing) were preparing for leadership roles in the Unitarian church. Margaret borrowed books from them, and invited them home for lively exchanges of ideas.
Like her Harvard friends, Margaret discovered the German philosopher and literary giant Johann Wolfgang von Goethe, regarded as a leading thinker by American Transcendentalists. In 1833, when the Fuller family moved to a farm in Groton, Massachusetts, Margaret felt terribly isolated from Cambridge and Boston, but she viewed her time there as her "graduate school" and began to study German in earnest.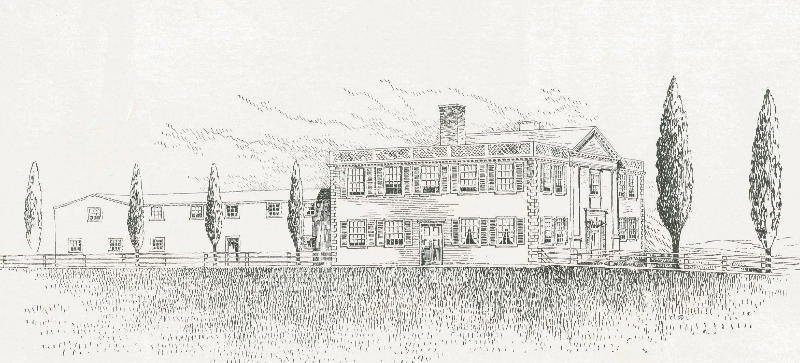 The Dana Mansion
Teaching and Self-education
Margaret Fuller's teaching career began at home, where she was responsible for the early education of her younger siblings. In Groton, she began earning money by adding neighborhood children to her home-based classroom.
While in Groton, Fuller also began writing for publications. Her first article of literary criticism (an emerging field in America), appeared in 1834 in her friend George Bancroft's Boston Daily Advertiser. She wrote literary and dramatic criticism, and translated Goethe for James Freeman Clarke's Western Messenger.
Fuller began to understand teaching young people and publishing articles as part of her larger role in life as a public educator. As Joan von Mehren explains, "Teaching was natural to her, and she would, in fact, never cease being a teacher in one guise or another."
When their father died suddenly in 1835, Margaret wrote to her brother Richard, "Nothing sustains me now but the thought that God ... must have some good for me to do." She was considered the de facto head of her family now, and their finances were meager. Fuller needed paid work, and an opportunity surfaced the following year in Concord, Massachusetts. There, during her first visit to Ralph Waldo Emerson's home, she met Bronson Alcott whose innovative Temple School in Boston would soon be without a teacher due to Elizabeth Peabody's resignation.
While Fuller waited for Alcott's job offer, she decided to move to Boston to start language and literature classes for women in German, Italian, and French. Before she left Concord, Emerson "kindly" identified "lapses" in her education. He steered Fuller toward the German and British philosophers and writers she would have studied if she had been able to attend college.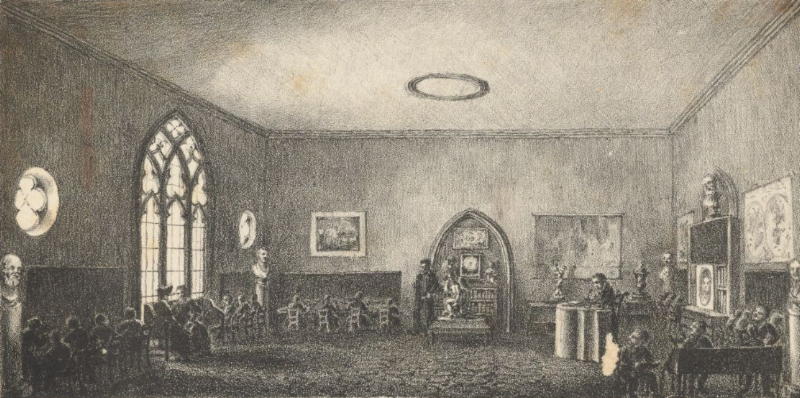 Bronson Alcott's Temple School (Houghton Library, Harvard
University. Purchased with the Amy Lowell Fund, 1992)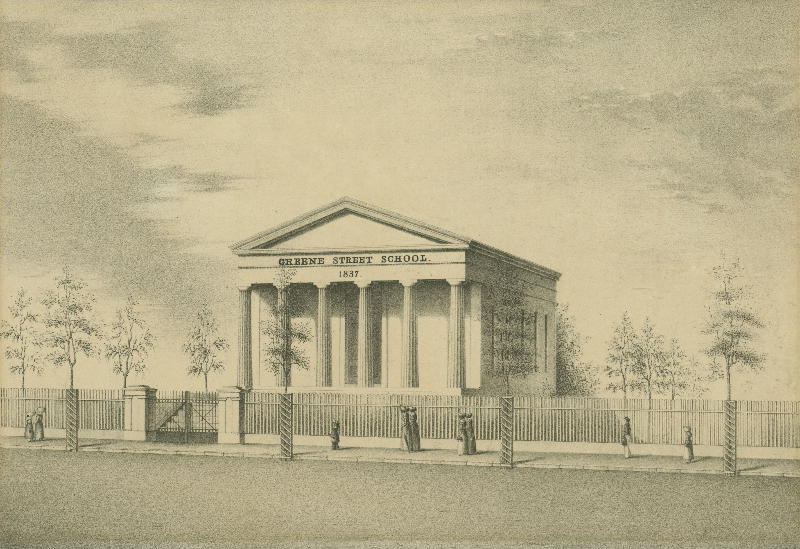 Greene Street School (Rhode Island Historical Society)
Fuller's time at the Temple School was short due to Alcott's controversial methods and the eventual closing of his school, but while there, she taught Latin, French, Italian, and kept records of the students' "conversation classes." In 1837, once again in need of work, Fuller accepted a well-paid position at Hiram Fuller's Greene Street School in Providence, Rhode Island, where she was put in charge of 60 students. She taught Latin, composition, elocution, history, natural philosophy, ethics, and the New Testament. Fuller's students described her as "strict and demanding, witty and authoritarian, at times unreasonable but always formidable, challenging, and impressive." Students were drawn to the school because of Fuller's reputation.
In the evenings, Fuller taught German language classes for women and men and worked on a biography of Goethe. She joined the intellectual Coliseum Club where she delivered her first public speech on "the sorry relation of women to society."
Earlier, during a visit to Concord, Fuller participated in gatherings of the "Transcendentalist Club"--the first time women were allowed as members in a "major male intellectual society," according to biographer Charles Capper. Before leaving Providence due to her failing health, Fuller observed, "I am not without my dreams and hopes as to the education of women."
Returning to Boston, Fuller made plans to hold what she called "Conversations" for women at Elizabeth Peabody's bookstore on West Street. Her initial purpose was not at all political. Instead, Fuller was interested in exploring two fundamental questions: What were we born to do? How shall we do it? These were questions "which so few ever propose to themselves 'til their best years are gone by." At the very least, she hoped to provide "a point of union to well-educated and thinking women" where they could satisfy their "wish for some such means of stimulus and cheer, and ... for a place where they could state their doubts and difficulties with hope of gaining aid from the experience or aspirations of others."
Margaret Fuller's lucrative Conversations continued for five years and attracted approximately 200 students. Among them were some of the most prominent women intellects, authors, and reformers in New England including Julia Ward Howe, Lydia Maria Child, and Ednah Dow Cheney. Eventually, given the heightened political activity in Boston on the subjects of slavery and women's rights, Fuller's Conversations took a decidedly political turn.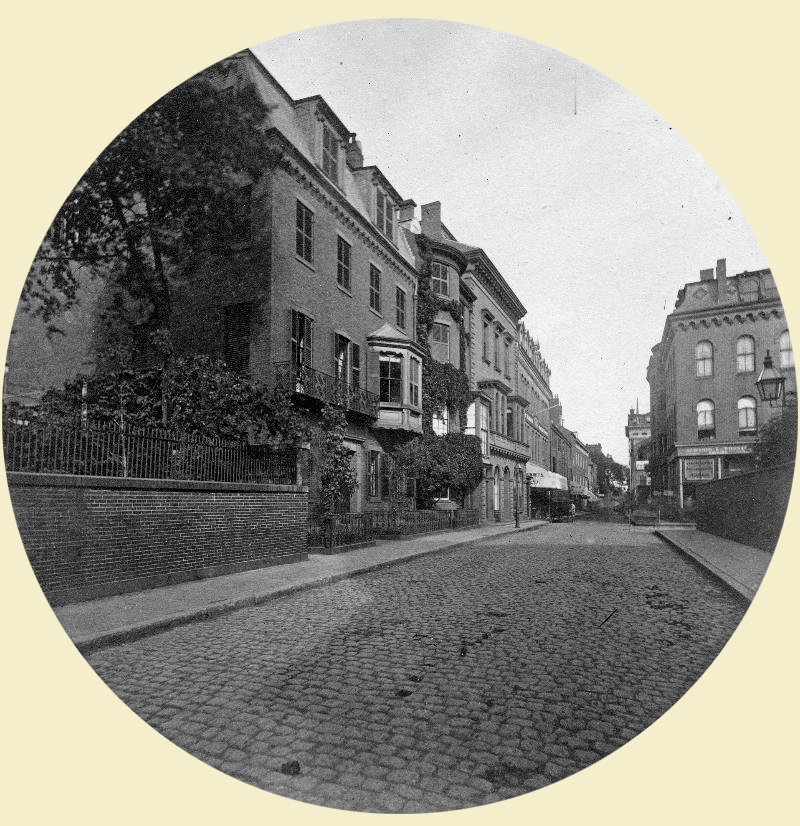 13-15 West Street, Boston (left) (The Bostonian Society)
Emerging Voice
In 1840, when Margaret Fuller agreed to serve as the first editor of the Dial at Ralph Waldo Emerson's request, she propelled herself even further into the public eye. While Fuller shunned the "Transcendentalist" label for herself, the Dial provided a vehicle for Transcendentalists to explain and defend themselves from criticism and misinterpretation. The Dial served as a forum for new authors and new ideas. Fuller saw the publication as "a perfectly free organ ... for the expression of individual thought and character, [one that would] not aim at leading public opinion, but at stimulating each man to think for himself."
Fuller solicited work from such writers (and friends) as Bronson Alcott, Frederic Henry Hedge, Caroline Sturgis, Ellery Channing, Henry David Thoreau, Theodore Parker, Elizabeth Peabody, George and Sophia Ripley, and, of course, Emerson. She also provided her own articles on literary and cultural criticism and biography. Fuller's 1841 article on Goethe brought her acclaim as a leader in American cultural thought, and perhaps prompted her first visit to Brook Farm, the Utopian Transcendentalist community in West Roxbury, Massachusetts, founded by the Ripleys.
 

Ralph Waldo Emerson
(Houghton Library, Harvard University. Bequest of Edith D. Fuller, 1926)

 

Debut issue of the Dial, July 1, 1840 (Andover-Harvard Theological Library)
One of the key areas where Transcendentalists and other reformers clashed was on the subject of social and political change. Should reform happen within the individual or by tackling institutions and taking radical action? At the time, Fuller shied away from joining any particular group, preferring to examine many sides. But her two-year stint as editor of the Dial set her on a path toward radicalism and shaping public opinion.
Due to the financial instability of the publication Fuller never received her promised payment for being editor, so in 1842 she resigned. Emerson told her, "You have played martyr a little too long alone: let there be rotation in martyrdom!" and she gratefully turned over the editorship of the Dial to him. Fuller spent time that summer traveling with friends in New England. In Boston, she continued her language classes and Conversations, which became increasingly political.
In an 1843 edition of the Dial, Emerson published the essay that would initiate the next phase of Fuller's public life. In "The Great Lawsuit: Man vs. Men and Woman vs. Women," she held up the egalitarian ideals of the American Revolution. Fuller pointed out that while these ideals did not yet apply to women, African Americans, and Native Americans, Americans had a "special mission" to strive toward a just social system -- and to assist others in the world who were initiating their own revolutions. Human freedom was a right, she asserted.
Fuller also threw out the ideology of "separate spheres" for women and men, instead addressing the conflicts between what was "male" and what was "female" within each person. She looked at gender roles in male and female friendships, and the laws and customs associated with marriage (subjects she also examined in her personal life as a single woman with male friends and married friends). She boldly exposed patriarchy and its effects.
Fuller's groundbreaking essay caught the attention of another outspoken literary reformer -- Horace Greeley, the publisher of the progressive New-York Tribune. He printed an excerpt of "The Great Lawsuit" in his newspaper in 1843.
Meanwhile, Fuller traveled to what was then considered the "western frontier" (Illinois and Wisconsin) with James Freeman Clarke, his sister, Sarah, an artist, and their mother, Rebecca, where she wanted to experience the American wilderness. She hoped to find instances of socially progressive communities far away from the East. Instead, what caught her attention were the consequences of the displacement of native peoples and the struggles of the settlers, especially the women, to survive difficult conditions.
Fuller saw the disparity between the promise of America and the reality of America, and the result was her 1844 book Summer on the Lakes, in 1843 -- an honest, first-hand account of conditions out west and a condemnation of U.S. policy. Biographer Charles Capper explains that she "[put] the region on the national literary and intellectual map and attract[ed] a national audience."
Summer on the Lakes was the first time Fuller used her own name in her work; the research she completed at Harvard made her the first woman to use Harvard's library (in Gore Hall).
Once again, Margaret's boldness caught the attention of Horace Greeley. He offered her a job in New York.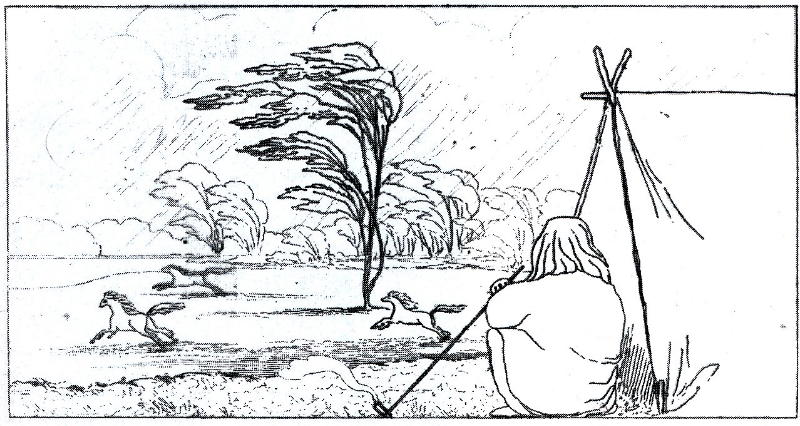 One of Sarah Clarke's drawings that appears in Summer on the Lakes, in 1843
Public Voice

"In cities and small towns throughout New England, New York, the Great Lakes, and the Ohio Valley, farmers, mechanics, and small merchants read the weekly aloud to their families, loaned it to neighbors, and organized 'Tribune Clubs' to discuss its latest news and pronouncement on national and international affairs. 'The Tribune comes next to the Bible all through the West,' its roving reporter Bayard Taylor would soon brag to his boss, and considering the multiple times each copy was read and its articles reprinted in other newspapers, Taylor's boast was almost an understatement." —Charles Capper
Horace Greeley put Margaret Fuller's essays on Page One of his reform-minded newspaper, the New-York Tribune. She signed them with the symbol of a star, or an asterisk. Greeley paid Fuller the same salary as a man's, gave her a place to live when she first arrived, and encouraged her to write with "force." Fuller thus became the first woman in America to head the literary department of a major newspaper.
Fuller reviewed books (American and foreign), periodicals, musical events, concerts, lectures, and art exhibits. She visited and wrote about New York's "benevolent" institutions--prisons, hospitals, almshouses, insane asylums, homes for the blind and deaf. Now in a position to influence popular culture and social policy through first-hand observations, her urge to tell the truth and exceptional writing talent brought her fully into the public arena.
Greeley saw her as "a philanthropist, preeminently a critic, a relentless destroyer of shams and outward traditions."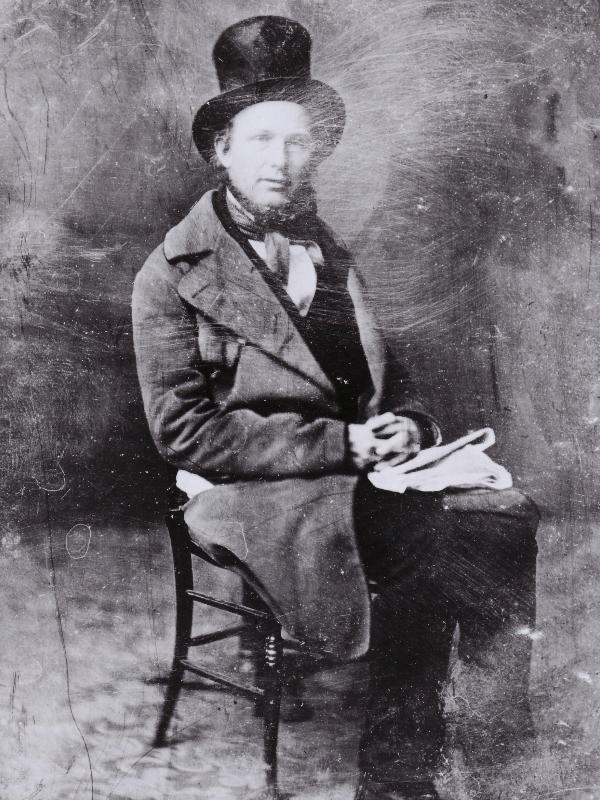 "Texas annexed, and more annexations in store;
Slavery perpetuated, as the most striking new feature
of these movements. Such are the fruits of American
love of liberty! Mormons murdered and driven out, as
an expression of American freedom of conscience.
Cassius Clay's paper expelled from Kentucky; that is
American freedom of the press. And all these deeds
defended on the true Russian grounds: 'We (the stronger)
know what you (the weaker) ought to do and be, and it
shall be so.'" —Margaret Fuller, 1845
Fuller's social commentary included condemnations of the approaching war with Mexico, the annexation of Texas, and the expansion of slavery. As historians Judith Mattson Bean and Joel Myerson explain, "She realizes that a war would drastically reconfigure the nation's population and landscape, leaving a legacy of dispossession and ethnic conflict. Fuller's essays actively resist American imperialism with attempts to subvert racist American expansionist rhetoric ... [her] participation in this debate was significant for another reason: the war with Mexico played a critical role in her disillusionment with America ... she began to equate U.S. national policy with European despotism and imperialism."
America's national identity was in crisis in the 1840s. There were questions about American literary independence from Europe and the United States' responsibility to foreign revolutionaries. Bean and Myerson point out:
"In reviewing contemporary American literature, Fuller practices a democratic criticism that challenges writers to uphold ideals of liberty and equality. Her political essays also argue that America's principles of liberty and equality are endangered by American materialism, greed, and the desire for continental domination. She directs attention to the relation of dominant American society to the other, contending that American society is founded upon tolerance and upon recognition of universal human rights rather than domination by force."
In 1846, learning that her friends Marcus and Rebecca Spring would be traveling to Europe to observe new and effective social institutions, Fuller and Horace Greeley decided she should go as well and send dispatches to the Tribune from the cities, towns, and countries she visited.
Before she left New York, Margaret wrote to her brother Richard, "I have now a position when if I can devot[e] myself entirely to use its occasions, a noble career is yet before me ... I want that my friends should wish me now to act in my public career."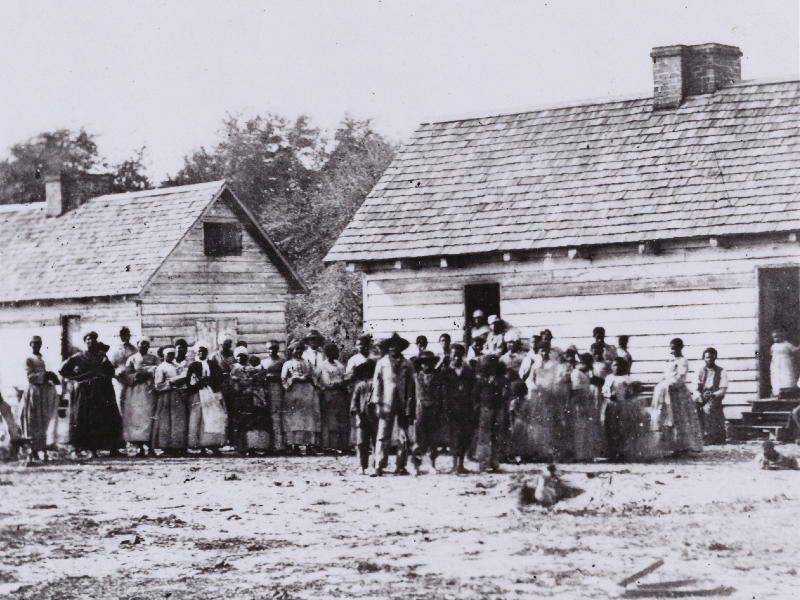 Enslaved African Americans on Smith's Plantation, Beaufort, South Carolina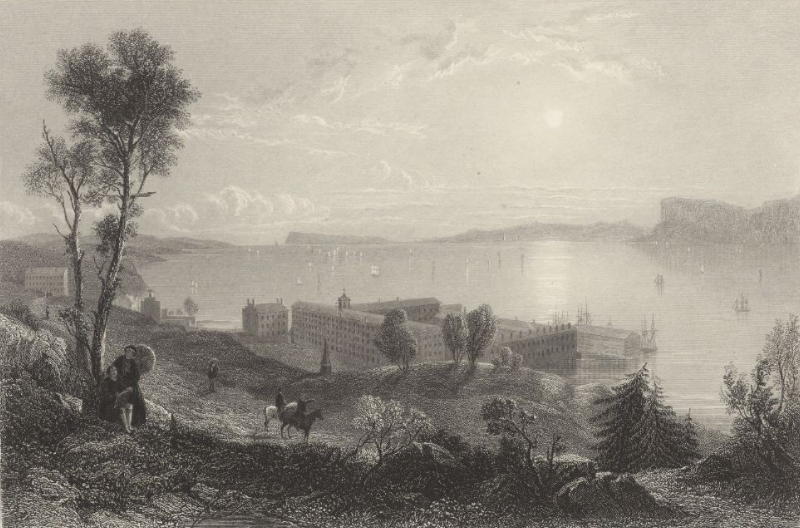 Sing Sing Prison, New York (Houghton Library, Harvard University.
Purchased with the William Inglis Morse Fund, 1943)
Reformer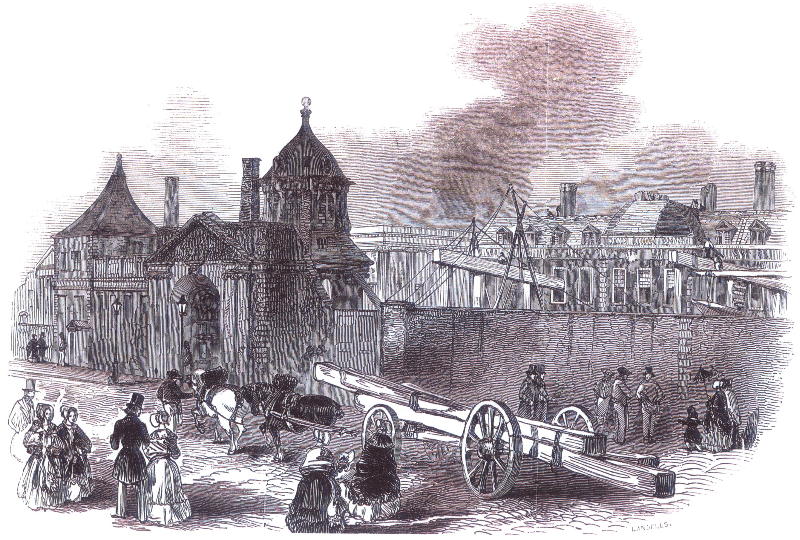 The British Museum under construction, 1845 (Illustrated London News)
In Europe, where industrialization was more advanced than in the U.S., Fuller hoped to find successful models of communities and institutions to prevent the expansion of poverty back home. During this time of steamships, railroads, telegraphs, and booming emigration to American cities, Judith Mattson Bean and Joel Myerson explain, "She envisions American culture as receiving not only people but seeds of thought and expression from other nations." These "thoughts" could be cultural as well as social and political.
In Liverpool and Manchester, England, Fuller went to Mechanics Institutes where anyone (male or female) with 5 shillings could attend lectures, take courses, or see art exhibitions. In London, she reported on cultural and literary goings-on. In Paris, when she visited homes, hospitals, and day care centers for the sick children of the poor, she observed evening schools where boys were taught a trade. In her dispatches to the New-York Tribune, she recommended that America immediately adopt such measures.
But it was the urban poverty of the slums that affected Fuller most of all, and the clear need for reform. In a dispatch from France she wrote, "The need of some radical measures of reform is not less strongly felt in France than elsewhere, and the time will come before long when such will be imperatively demanded."
She also wrote, "To themselves be woe, who have eyes and see not, ears and hear not, the convulsions and sobs of injured Humanity."
Two questions plagued Fuller's mind: What was her role in what she was witnessing? What was America's role?
As Joan von Mehren points out, after visiting Paris, "Every one of her columns now made some plea on behalf of its 'injured Humanity.'" While the initial purpose of Fuller's journey to Europe was "to seek useful ideas to transplant to the new world," she was transformed by her experience into "a radical vocation to communicate the monstrous suffering and human waste of the historical movement."
If there was any doubt in Fuller's mind about her stature as an international voice, there was no doubt in the minds of her new European friends. Fuller's reputation preceded her. They seemed to know she was destined to bridge the two continents and promote the reforms that were in their mutual interest. They embraced her.
In England, she renewed her acquaintance with social commentator Harriet Martineau, met the poet William Wordsworth, and the co-editors of the People's Journal Mary and William Howitt (whose modern marriage she had described in Woman in the Nineteenth Century). She also met Giuseppe Mazzini, the legendary exiled Italian revolutionary about whom Fuller had written for the Tribune. She was drawn to his cause and became his confidante and secret messenger.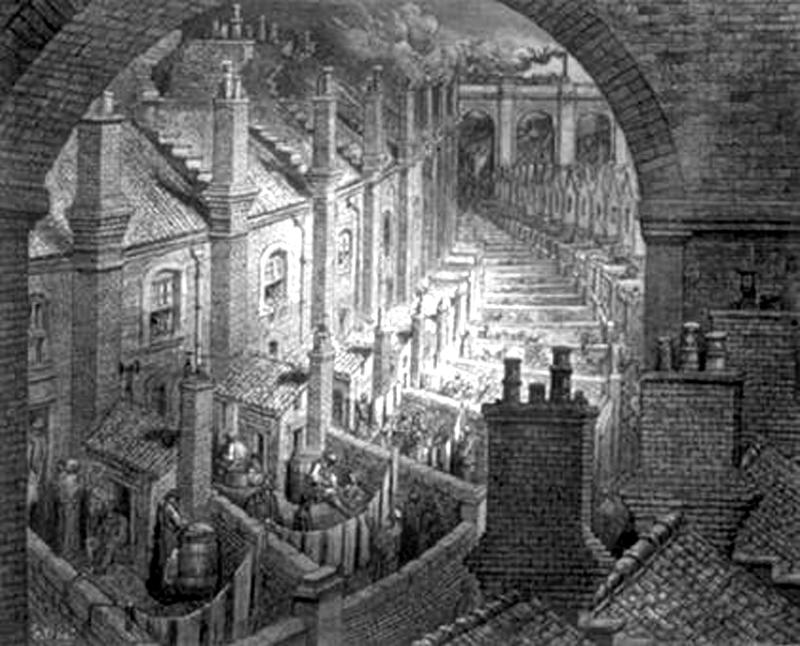 London slums, 1856
In Paris, Fuller met George Sand and Pierre Leroux, who invited her to publish work in their periodical La Revue Indépendante. She was introduced to the exiled Polish revolutionary and poet Adam Mickiewicz, who became a kind of spiritual guide.
Fuller was in her element, filled with a sense of purpose and armed with the skills and mechanism (the Tribune) to make a difference. But the best was yet to come—Italy.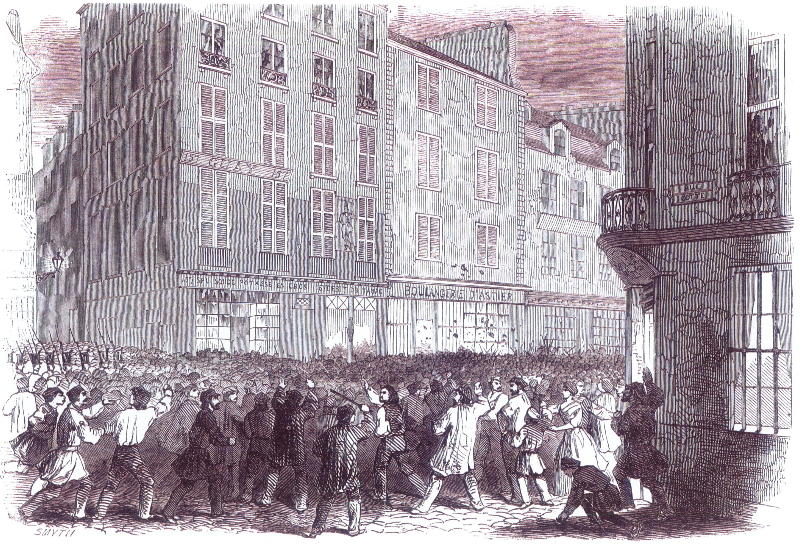 Bread Riot in the Rue du Fauborg St. Antoine, Paris, 1846 (Illustrated London News)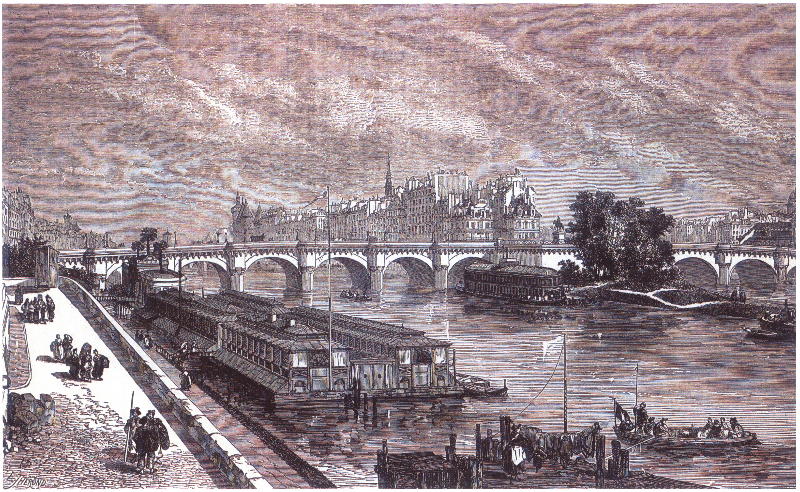 The Pont Neuf, Paris, 1845
Revolutionary
Margaret Fuller arrived in Italy in March 1847, carrying secret letters from the Italian revolutionary Giuseppe Mazzini and knowing she was heading into a turbulent political situation. What Mazzini and his supporters hoped to forge was a united Italian Republic starting with Rome, where the new Pope, Pius IX, seemed open to reform. The revolutionaries wanted to limit the Pope's power to spiritual matters; secular matters, like governance, should be left to democratically elected officials. With Rome as the head of a new republic, the rest of the independent states comprising Italy could join and form one democratic nation. Austrian and French forces, in particular, had other ideas. So did the Pope, whom Fuller took on in one of her more gutsy dispatches to the New-York Tribune, her employer.
Among Mazzini's supporters was the Marchese Giovanni Angelo Ossoli, the youngest son of an aristocratic Catholic family with ties to the Pope. Fuller fell in love with him, and gave birth to their child, Angelo Eugene Phillip Ossoli ("Nino") in 1848 in Reiti, where she had temporarily relocated for their safety. She returned to Rome as soon as she found caretakers for Nino, and resumed her work as the first woman foreign correspondent for a major newspaper to serve in wartime.
"[K]ings may find their thrones rather crumbling than tumbling;
the priests may see the consecration wafer turn into bread to
sustain the perishing millions even in their astonished hands.
God grant it. Here lie my hopes now. I believed before I came
to Europe in what is called Socialism, as the inevitable sequence
to the tendencies and wants of the era, but I did not think these
vast changes in modes of government, education and daily life,
would be effected as rapidly as I now think they will, because they
must. The world can no longer stand without them."
—Margaret Fuller, 1850
Fuller observed the Roman Revolution first-hand, managed a hospital, assisted her husband on the front lines, and began to write a modern history of the movement. In one of her last dispatches from Rome she wrote, "The New Era is no longer an embryo; it is born; it begins to walk—this very year sees its first giant steps, and can no longer mistake its features. Men have long been talking of a transition state—it is over—the power of positive, determinate efforts is begun." However, Fuller did not believe republican forms of government would take hold in Europe until the next century, and she was right.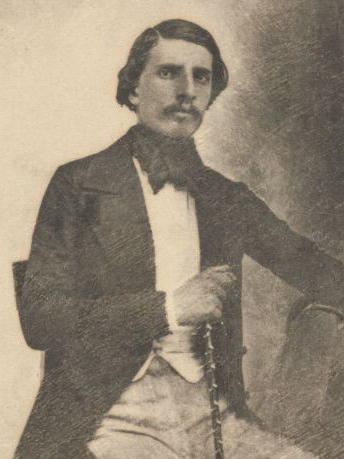 "Giovanni Angelo Ossoli
(Houghton Library,
Harvard University.
Bequest of Edith D. Fuller)
I have wished to be natural and true, but the world was not in harmony with me—nothing came right for me. I think the spirit that governs the Universe must have in reserve for me a sphere where I can develop more freely, and be happier." —Margaret Fuller
The Ossolis (Fuller began to refer to herself as the Countess Ossoli and assured her friends they had married) escaped from Rome in 1850 as the revolution fell apart. Although she had a nightmare about the voyage and wrote to friends that she had a terrible sense of foreboding, the family eventually sailed for New York where Fuller knew she could find a publisher for her history.
It was an awful journey. The captain died of cholera on the way which Nino, her baby, also contracted. Before the steamer Elizabeth could reach its destination, and under the direction of a less experienced captain, a storm crossed its path, the ship ran aground, and eventually capsized just off Fire Island, New York. Some passengers were rescued, while others waited for help. Onlookers looted the items that washed ashore.
All three Ossolis perished at sea, along with Margaret's manuscript of the Roman Revolution. Only Nino's body was recovered, and he was buried in the Fuller family plot at Mount Auburn Cemetery in Cambridge, Massachusetts, where a cenotaph in Margaret Fuller Ossoli's memory now stands.
In a plea to her American audience from Rome, Fuller had written, "I pray you do something; let [the revolution] not end in a mere cry of sentiment … Do you owe no tithe to heaven for the privileges it has showered on you, for whose achievements so many here suffer and perish daily? Deserve to retain them by helping your fellow-men to acquire them … Friends, countrymen, and lovers of virtue, lovers of freedom, lovers of truth!—be on the alert; rest not supine in your easier lives, but remember
'Mankind is one And beats with one great heart.'"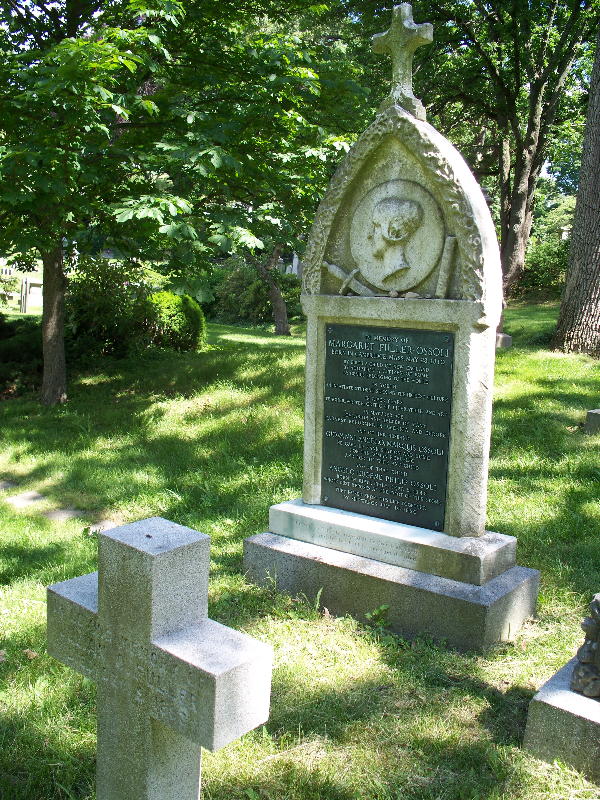 Cenotaph to Margaret
Fuller Ossoli, Mount
Auburn Cemetery,
Cambridge,
Massachusetts.

The inscription:
"Born a child of
New England,
By adoption a
citizen of Rome,
By genius belonging
to the World"

Tributes
"Higher natures like hers, living for higher aims, have a more evident Providence managing their destiny, & it was manifest that she was not to come back to struggle against poverty, misrepresentation, & perhaps alienated friendships and chilled affections. There seemed no position for her here, & her life was complete, so far as experience & development went. That she shd. have accomplished so little for the public in proportion to her genius & attainments is to us a loss -- but her own aim was rather development than manifestation, & that first aim she perfectly fulfilled. Her life will seem to us now complete & round."
--James Freeman Clarke
"To the last her country proves inhospitable to her; brave, eloquent, subtle, accomplished, devoted, constant soul! If nature availed in America to give birth to many such as she, freedom & honour & letters & art too were safe in this new world."
--Ralph Waldo Emerson
"She is full of all nobleness, and with the generosity native to her mind & character, appears to me an exotic in New England, a foreigner from some more sultry & expansive climate. She is, I suppose, the earliest reader & lover of Goethe, in this country, and nobody here knows him so well. Her love too of whatever is good in French & especially in Italian genius, give her the best title to travel. In short, she is our citizen of the world by quite special diploma."
--Thomas Carlyle
"America has produced no woman who in mental endowments and acquirements has surpassed Margaret Fuller."
--Horace Greeley
"The Conversations were a 'vindication of woman's right to think.'"
--Elizabeth Cady Stanton
"How characteristic are all the things told of Margaret on board, giving her only life-preserver to a sailor to seek for help, when a less sanguine or more selfish person would not have done [so] -- her refusing to part with her child when she could not have saved him...; her securing the money about her showed how much she felt the need of it -- One who had always been taken care of would not have done so when lives were in danger."
--Caroline Sturgis Tappan
"There was ... a fate in her, and was in the struggle against this, that she wrought her greatest victories. I think her courage surpassed by no woman I have met. It made her life one of the revolutions, and brought her to the tragic end."
--Bronson Alcott
"To her, I, at least, had hoped to confide the leadership of this movement. It can never be known if she would have accepted it...; she was, and still is a leader of thought; a position far more desirable than a leader of numbers."
--Paulina Wright Davis, president, Woman's Rights Convention, Worcester, Massachusetts, 1850; the convention observed a moment of silence in her memory before proceeding
"She was not framed by nature for a mystic, a dreamer, or a bookworm ... but a career of mingled thought and action, such as she finally found."
--Thomas Wentworth Higginson
"For as long as she lived, and afterward too, almost everyone who knew Fuller well groped for words when they tried to describe her; nearly all of them were compelled, sooner or later, to use the word 'force.'"
--Joan von Mehren, biographer
Body of Work
"She gave a national dimension to the role of the literary critic, bringing to it a political and social conscience that has been the hallmark of its best practitioners ever since."
--Joan von Mehren
"Responding to literature and the social problems of the 1840s, she gained the power of self-expression and chose positions that made her an articulate critic of American and European culture."
--Judith Mattson Bean and Joel Myserson
"Most distinctive was her voice: politically savvy, culturally alert, and electrically charged by a vibrant intellectual personality grappling with one of her deepest conundrums--her identity as an American cosmopolitan liberal--resounding off the screen of the greatest European political cataclysm of the nineteenth century."
--Charles Capper
Articles
Literary criticism
American Monthly Magazine
Boston Daily Advertiser and Patriot
Boston Quarterly Review
The Dial
La Revue Indépendante
Present, the Spirit of the Age
New-York Tribune
Western Messenger
Cultural commentary
The Dial
New-York Tribune
Biographical sketches
The Dial
New-York Tribune
Social commentary
The Dial
New-York Tribune
United States Magazine and Democratic Review
Translations
Published privately by Elizabeth Peabody
Western Messenger
Books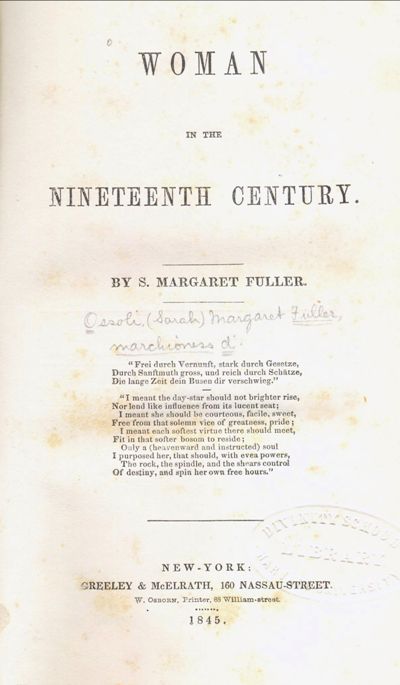 "Conversations with Goethe in the Last Years of His Life," (published by Hilliard, Gray and Company, Boston, as part of George Ripley's Specimens of Foreign Standard Literature series, 1839)
Summer on the Lakes, in 1843 (Little and Brown, Boston, 1844)
Woman in the Nineteenth Century (Greeley and McElrath, 1845)
Papers on Literature and Art (Wiley and Putnam, New York, 1846)
A Modern History of the Roman Republic (actual title unknown, manuscript lost at sea)
Published Posthumously
Memoirs of Margaret Fuller Ossoli (prepared by William Henry Channing, James Freeman Clarke, Ralph Waldo Emerson, published in 1852 by Phillips, Sampson and Company in Boston; the best selling biography of the 1850s; by the end of the century, there were 13 editions including one in German)
Woman in the Nineteenth Century and Kindred Papers (prepared by Arthur Fuller, published in 1855 by John P. Jewitt, Boston)
At Home and Abroad
(a compilation of Tribune articles and letters written from abroad; compiled by Arthur Fuller, published in 1856 by Crosby, Nichols, and Company, Boston)
Life Within and Without
(Dial and Tribune articles written in New York; compiled by Arthur Fuller, published in 1860 by Brown, Taggard, and Chase, Boston)
Fuller quote:
"I felt a delightful glow as if I had put a good deal of my true life in it, as if, suppose I went away now, the measure of my foot-print would be left on the earth."
--Margaret Fuller, on completing Woman in the Nineteenth Century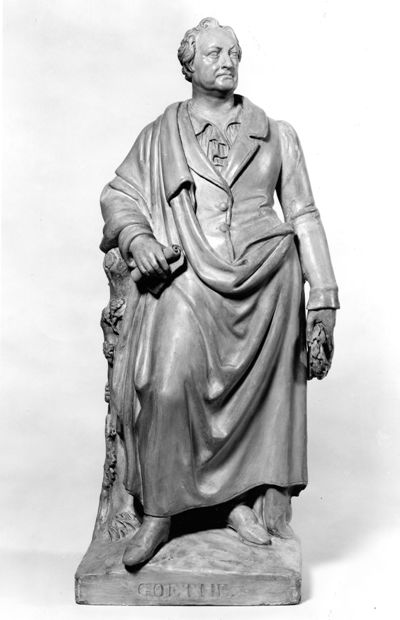 Johann Wolfgang von
Goethe, whose influence
on Fuller and the American
Transcendentalists was
profound; Fuller's biography
of him brought her acclaim
and stature (National
Park Service, Longfellow
National Historic Site )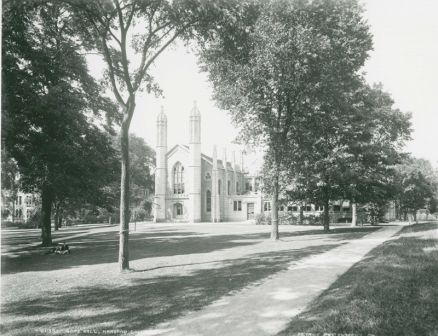 Gore Hall, Harvard College Library; Margaret Fuller was the
first woman allowed to use Harvard's library for her own research
(Cambridge Historical Commission)
Friends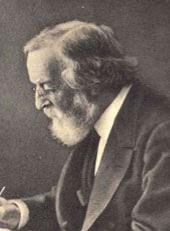 James Freeman Clarke
Fuller met Clarke while he was a student at Harvard studying for the Unitarian ministry. He became part of the circle she gathered around her as a young woman in Cambridge. Clarke published some of Fuller's earliest work in the Western Messenger, a periodical he started in 1835. (Photo: Andover-Harvard Theological Library)
William Henry Channing
The nephew of William Ellery Channing, William Henry was a Harvard-trained Transcendentalist Unitarian minister. He was a prolific writer for the Dial, and the editor of the socialist periodical Present to which Fuller contributed. Channing was an Associationist, a movement that married socialism with Christianity.
Lydia Maria Francis Child
One of Boston's foremost abolitionists and Unitarians, Child was the author of America's first anti-slavery book. She tutored young Margaret at the Francis home in Watertown, Massachusetts, and later continued their friendship in Boston and New York where Child edited the National Anti-Slavery Standard.
Ralph Waldo Emerson
Considered the leader of the American Transcendentalist movement, Emerson was an author, philosopher, lecturer, former Unitarian minister, and founder of the Dial, which he asked Fuller to edit. Fuller first met Emerson at his home in Concord, Massachusetts, where many Transcendentalists gathered at the informal "Concord University." Their relationship is the subject of much study. He was an early mentor and friend, but Fuller exerted her independence of thought.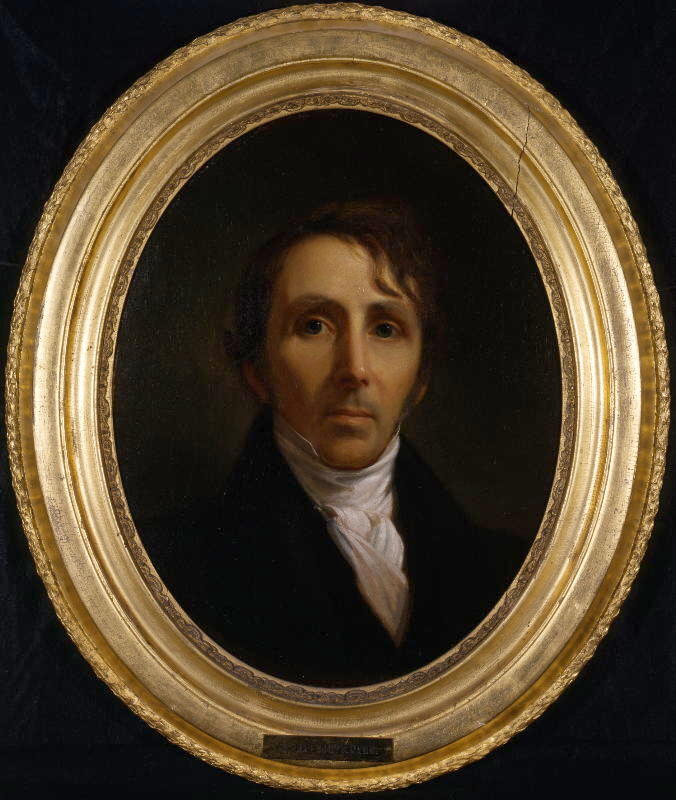 William Ellery Channing
As the leading Unitarian minister in Boston and the nation, Channing was a central figure in the lives of Fuller and her Transcendentalist friends. As the historian Frank Carpenter explains, "Channing fervently believed God had made human nature, with its capacity for moral choice and ever increasing understanding, akin to the divine. He confidently preached the possibility of unending moral and spiritual progress for all who would shape their lives in accordance with its demands." As a young woman, Fuller worked for Channing as a reader and translator and she attended his Federal Street Church. Channing's nephew, Ellery, married Fuller's sister Ellen. (Photo: Imaging Department © President and Fellows of Harvard College)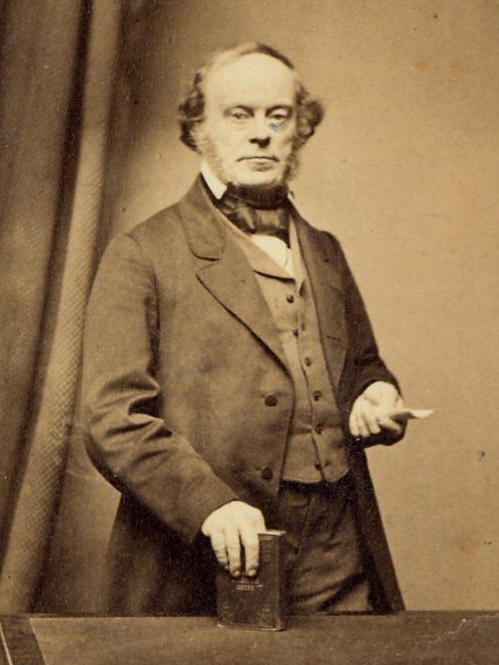 Frederic Henry Hedge
Hedge and Fuller became friends while he was studying for the Unitarian ministry at Harvard. Hedge was also an author, and part of the Emerson group in Concord where he founded what would become the Transcendentalist Club. Fuller was invited to join the club, which was the first time women were allowed as members of a leading male intellectual society. Hedge served on the faculty at Harvard and edited The Christian Examiner. (Photo: Andover-Harvard Theological Library)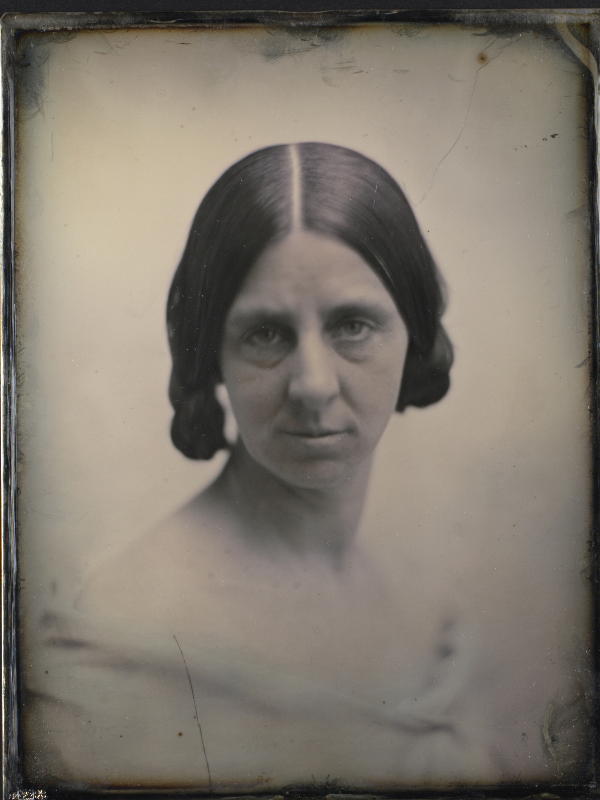 Caroline Sturgis Tappan
Transcendentalist, poet, and children's author, Caroline Sturgis was one of Fuller's closest friends and part of the Concord group. During Fuller's period of homelessness, they traveled together. Tappan attended Fuller's Conversations, and contributed to the Dial. (Photo: George Eastman House, International Museum of Photography and Film)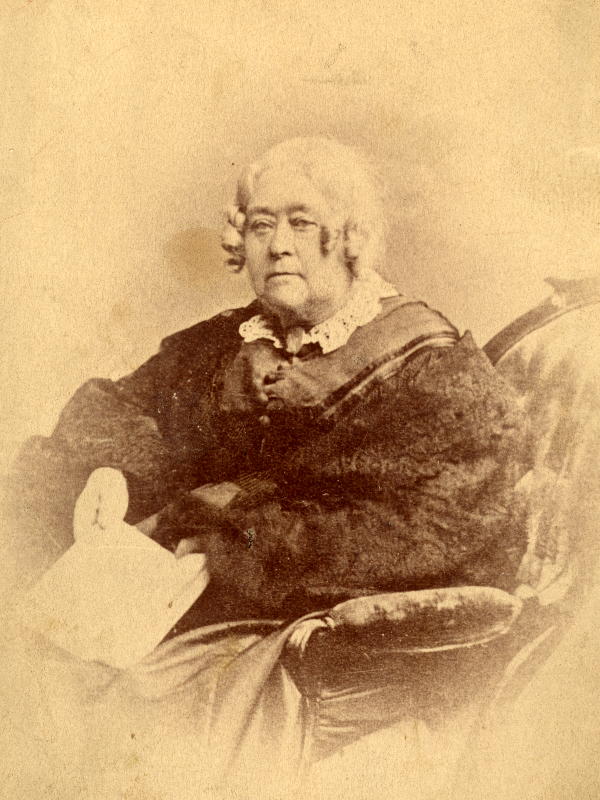 Elizabeth Peabody
Peabody's bookstore on West Street in Boston was the site of Fuller's Conversations, which Peabody attended along with her sisters Mary and Sophia. Peabody taught at Bronson Alcott's Temple School and founded the kindergarten movement in America. She was an author and the first woman publisher in Boston. (Photo: Concord Free Public Library)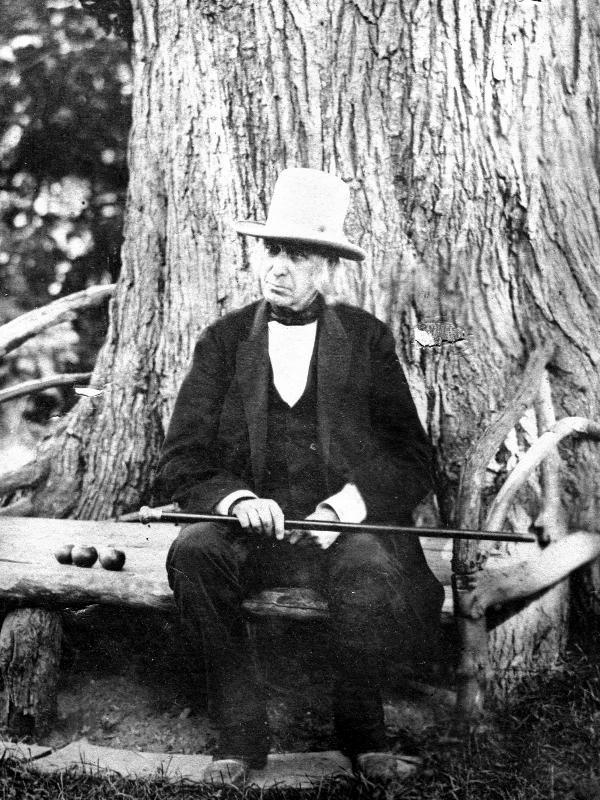 Bronson Alcott
Fuller met the educator, philosopher, and Transcendentalist in Concord in 1836 and moved to Boston to teach at his controversial Temple School. Alcott's discussions of sexually explicit subjects, reinterpretations of the Gospel, and acceptance of an African American student caused the school to close in 1837. Alcott later helped found the failed utopian community Fruitlands in Harvard, Massachusetts. (Photo: Concord Free Public Library)
Hiram Fuller
Hiram Fuller (no relation) hired Fuller for an impressive salary to teach at his Greene Street School in Providence, Rhode Island, in 1837. There, with her students, Fuller really blossomed as a teacher and first examined female culture. She gave her first public speech on the subject at the intellectual Coliseum Club. Hiram Fuller was a follower of Bronson Alcott, applying many of Alcott's child-centered methods to his own school.
Horace Greeley
Greeley noticed Fuller's bold writing in the Dial and hired her for his reformist Whig newspaper, the New-York Tribune, making Fuller the first woman to head the literary department of a major American newspaper. Fuller established herself as a leading public voice for social and political reform. When Greeley published her writings from Europe, Fuller became the first woman correspondent and the first woman journalist to serve during wartime for a major American newspaper. Greeley published Fuller's most famous work, Woman in the Nineteenth Century.
Harriet Martineau
Fuller first met Martineau in Cambridge, Massachusetts, while the celebrated and outspoken British journalist, philosopher, and social commentator was touring the United States. While Martineau was somewhat critical of Fuller's book Woman in the Nineteenth Century, and Fuller took issue with Martineau's book Society in America, the two women resumed their friendship while Fuller was in England.
Adam Mickiewicz
Poet, preacher, and exiled Polish revolutionary, Fuller met Mickiewicz in England and he became a kind of spiritual guide to her. He encouraged her to lead a more balanced life, professionally and spiritually. According to Joan von Mehren, Mickiewicz told her that in Europe "Her soul would find its sustenance in the Old World, its 'activity' in the New World, and its 'repose' in the future world." Fuller agreed.
Thomas Carlyle
A Scottish essayist, historian, and reformist, Carlyle was drawn to the works of Goethe and other German philosophers, which led to his affinity with the American Transcendentalists and Ralph Waldo Emerson. Fuller encountered the German philosophers through Carlyle's writing in the Edinburgh Review, and met him in 1846 in London. Carlyle threw a literary party for Fuller, introducing her to the finest writers of literary London.
George Sand
Born Amandine Aurore Lucile Dupin, Sand was a native of Paris who divorced her husband, kept her children, and became France's first female novelist using a male pen name. She wore men's clothes, smoked cigars, had affairs (most famously with the composer Frederic Chopin) and challenged social conventions that inhibited women. Fuller met Sand in Paris in 1846 at the height of Sand's literary fame.
Giuseppe Mazzini
Fuller met the great exiled Italian revolutionary in London in 1846, and she was drawn to his efforts to transform Italy into a modern republic. Mazzini trusted Fuller to carry secret letters with her from Rome, where she became actively involved in the Roman Revolution as a correspondent for the New-York Tribune, manager of a hospital, and the author of a history of the revolution.
Giovanni Angelo Ossoli
Fuller became involved with Ossoli in 1847. The following year, she gave birth to their son, Angelo Eugene Phillip Ossoli. Ossoli, a revolutionary, was the estranged son of a Catholic noble family with ties to the Pope. He was ten years Fuller's junior, and although a marriage certificate has never been found Fuller left behind letters suggesting a legal arrangement and she called herself the Countess Ossoli.