Welcome to UU Women and Religion
Welcome! The Women and Religion Movement is alive and well in the 21st Century. A grassroots project started by lay leaders in the 1970s as an effort to promote examination of religious roots of sexism and patriarchy within the UUA and beyond, UU Women and Religion officially began as a task force following the unanimously-passed WOMEN AND RELIGION RESOLUTION at the 1977 UUA General Assembly. Although the Task Force was eventually sunsetted, the movement still exists in UU Districts that hold Women & Religion programs and woman-focused gatherings. It exists at General Assembly, where UUW&R has an annual gathering and a booth in the display area. And it lives in the hearts and lives of women and men who have been touched by the many changes inspired by this movement.
"We do not want a piece of the pie. It is still a patriarchal pie. We want to change the recipe!" -- Rosemary Matson
40th Anniversary of the UU Women and Religion Resolution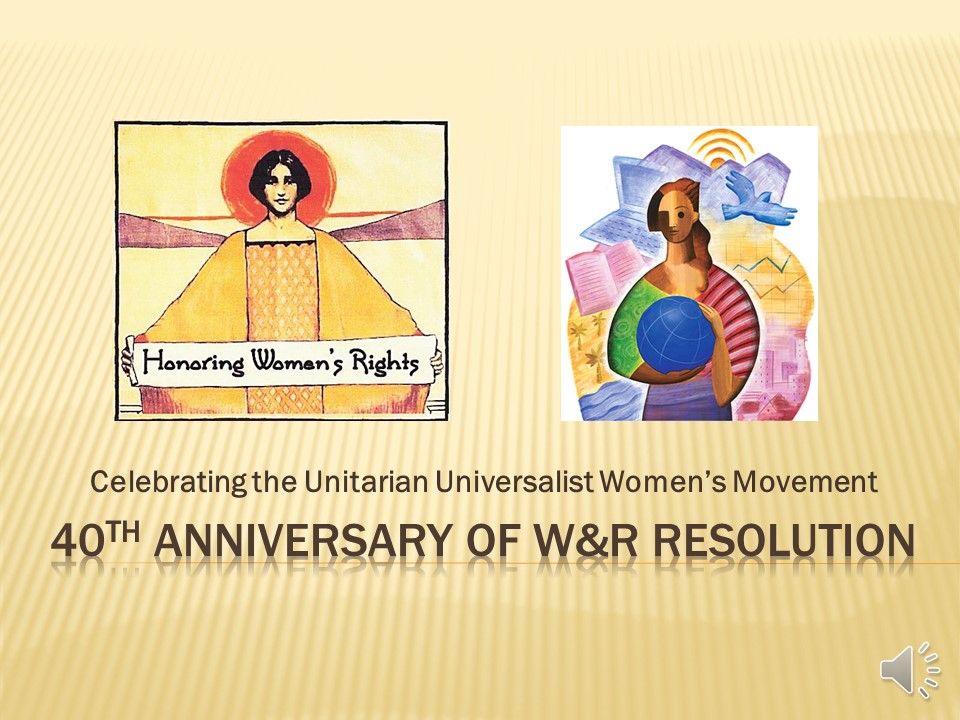 2017 marks the 40th Anniversary of the passage of the Women and Religion Resolution that resulted in the creation of a Continental UUWR committee, W&R committees in 19 Districts, and much more. Liz Fisher has compiled an extensive history of the Resolution in a slideshow!
You can view it as a slideshow with narration, (it may take some time load - 65MB file) or download the PDF version:
pdf 40th Anniversary of UU Women and Religion Resolution (9.44 MB>)>