Communication from Elizabeth Fisher
[We're deeply sad to report that Liz Fisher is under hospice care for cancer. She wanted to share these thoughts.]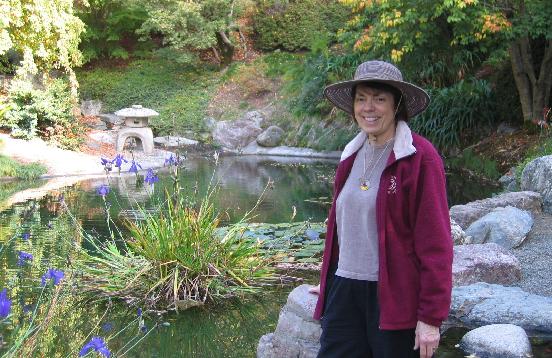 As I look back over my 72+ years of life in this body I am amazed at all I have experienced, thought and felt. During my years from early 1980s to the present, Women and Religion has been my nourishment. As Matilda Joslyn Gage (1826-1898) of the 19th century taught so well, the early societies that proceeded patriarchy have a profound message for us.
The purpose of Women and Religion is to proclaim our ancestral stream of concern for fair, compassionate, kind, and most of all, mutually supportive inclinations. This tendency is to be blended with the contemporary concerns of positive modeling of non-violent co-existence and protection of the natural world – plant, animal, stone and star.
Gretchen Ohmann has been the web keeper linking several generations and many women, allowing all to find places in the web. Her generosity and response to my critical need is further proof of the real spirit – social, physical and group conferencing – I have always felt with Women and Religion.
I have to call out Shirley Ranck – a role model for kind sustenance and stalwart holding of the message of this movement. She kept the light for all of us as well as others living and passed. A special thanks to Rosemary Matson, Lucile Longview, Emily Champagne and Meg Bowman who taught me that women's rights are human rights, as well as to Barbara Schonborn for her uplifting attitudes.
There have been men throughout the years who have been sympathetic too, particularly my devoted partner, Robert Fisher, who has fully backed the W&R movement and been my chief promoter, and who so impeccably cared for me during my last months. We share the worldview of Taoism / Wabi Sabi that: nothing lasts, nothing is finished, and nothing is perfect.
I have for some time been creating and sharing expressions of my observations, feelings, insights and wisdom. I have also published the efforts of others, especially in the Rise Up curriculum. I made available some of these at www.RiseUpandCallHerName.com. I believe the Universe has intelligence which is available and willing to participate in each of our adventures. It is called LOVE.
May, 2020 Pacific Grove, California
UU Women Gather Online
Minerva Potlucks are a time for spiritual renewal and nourishment. A safe and sacred space for women to connect with one another in spiritual exploration. A treasured tradition in some women's circles that typically takes place at the beginning of each new month. To help UU Women stay connected during this time of isolation, in collaboration with UU Women and Religion we are offering Virtual Minerva Gatherings via Zoom weekly! (There is no charge to participate) ❉ These online gatherings will embody the same elements of conversation, poetry, music, art and ritual as our in-person Minerva Gatherings have over the years. To RSVP, visit: https://www.uuwf.org/events
For more information about online programs: http://twinklesplace.org/UU-Women-Online-Offerings/
These programs are funded in part, by a generous grant from UU Women's Connection, by UU Women and Religion, UU Women's Federation, and by UU women supporters: http://twinklesplace.org/supporting-uu-womens-online-offerings/
Is your local or regional UU women's group gathering? We'd like to hear how things are going for you. info@uuwr.org
Membership
UUW&R doesn't really have memberships these days, though you can volunteer to work with the core group anytime. You might consider joining UU Women's Federation. They are a membership organization and you can join for a donation of any amount: https://www.uuwf.org/donate-join
We're currently in conversations with UU Women's Federation on consolidating. We're hoping to co-create new ways to move together into the future! We've already partnered with UUWF on several projects, including a combined presence at General Assembly.
In the past decade or so, UUW&R has focused on networking among the remaining District UU women's groups, keeping essential -- and new -- women's spirituality materials available, and handling publication of the classic curricula and some books. A new structure and funding may help us do even more. We have several curriculum projects in the works. What would you like to see us do in the future? https://www.uuwf.org/survey
Welcome to UU Women and Religion
Welcome! The Women and Religion Movement is alive and well in the 21st Century. A grassroots project started by lay leaders in the 1970s as an effort to promote examination of religious roots of sexism and patriarchy within the UUA and beyond, UU Women and Religion officially began as a task force following the unanimously-passed WOMEN AND RELIGION RESOLUTION at the 1977 UUA General Assembly. Although the Task Force was eventually sunsetted, the movement still exists in UU Districts that hold Women & Religion programs and woman-focused gatherings. It exists at General Assembly, where UUW&R has an annual gathering and a booth in the display area. And it lives in the hearts and lives of women and men who have been touched by the many changes inspired by this movement.
"We do not want a piece of the pie. It is still a patriarchal pie. We want to change the recipe!" -- Rosemary Matson
Shared Leadership book - NEW!
Newly revised and updated, this book by Elizabeth Fisher outlines a Train-the-Trainer workshop which teaches the group facilitation process of the participatory Circle Model of Shared Leadership.
This book can aid you when facilitating a group and also make it possible for you to teach this method effectively so it can be put into practice quickly by others. It presents the core ideas of Shared Leadership, and provides written material and resources that are concise and ready to use when teaching others.
UUW&R will be offering this workshop in various places around the US in 2019 and 2020. Those attending this workshop will be empowered to take the Shared Leadership model into their congregations and committees and utilize the process of consensus decision-making as they answer the call to build beloved community.
Discounts for multiple copies!