District Women's Groups


Southern Region


MidAmerica Region

Chicago area


Southern Region
Florida NorthEast Cluster has an annual retreat!! Check the Southern Region calendar for more.
Disbanded but archives online

Florida District (disbanded in 2009 - archives online)
Metro New York
Mass Bay District
Mountain Desert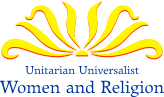 You may use this Continental UUW&R logo in your print and web media:
If you'd like to link to our site, you may also use this banner logo:

More UU Women's Groups
(if you would like to be listed, contact the Webweaver)
Sister Circles at UU Church of Eugene, Oregon
Association of Unitarian Women First U of Minneapolis, Minnesota
Fellowship Women of Boulder County, Colorado
Women's Spirituality Group and Women's Drumming Circle, First Unitarian Church, South Bend, Indiana, are morphing into something new...
UU Sisterhood at UU Church of Ft. Lauderdale
In The Company of Women, retreat at Ferry Beach, Saco Maine
Women's Spirit Circles at UUC Fairfax Virginia
Women's Group at Holston Valley TN UUC
Women's Spirituality Group at First UU Austin TX
Womanspirit Retreat at Las Cruces, NM
Revitalizing UU Women's Groups: A How-To Manual