Page 7 of 10
Revolutionary
Margaret Fuller arrived in Italy in March 1847, carrying secret letters from the Italian revolutionary Giuseppe Mazzini and knowing she was heading into a turbulent political situation. What Mazzini and his supporters hoped to forge was a united Italian Republic starting with Rome, where the new Pope, Pius IX, seemed open to reform. The revolutionaries wanted to limit the Pope's power to spiritual matters; secular matters, like governance, should be left to democratically elected officials. With Rome as the head of a new republic, the rest of the independent states comprising Italy could join and form one democratic nation. Austrian and French forces, in particular, had other ideas. So did the Pope, whom Fuller took on in one of her more gutsy dispatches to the New-York Tribune, her employer.
Among Mazzini's supporters was the Marchese Giovanni Angelo Ossoli, the youngest son of an aristocratic Catholic family with ties to the Pope. Fuller fell in love with him, and gave birth to their child, Angelo Eugene Phillip Ossoli ("Nino") in 1848 in Reiti, where she had temporarily relocated for their safety. She returned to Rome as soon as she found caretakers for Nino, and resumed her work as the first woman foreign correspondent for a major newspaper to serve in wartime.
"[K]ings may find their thrones rather crumbling than tumbling;
the priests may see the consecration wafer turn into bread to
sustain the perishing millions even in their astonished hands.
God grant it. Here lie my hopes now. I believed before I came
to Europe in what is called Socialism, as the inevitable sequence
to the tendencies and wants of the era, but I did not think these
vast changes in modes of government, education and daily life,
would be effected as rapidly as I now think they will, because they
must. The world can no longer stand without them."
—Margaret Fuller, 1850
Fuller observed the Roman Revolution first-hand, managed a hospital, assisted her husband on the front lines, and began to write a modern history of the movement. In one of her last dispatches from Rome she wrote, "The New Era is no longer an embryo; it is born; it begins to walk—this very year sees its first giant steps, and can no longer mistake its features. Men have long been talking of a transition state—it is over—the power of positive, determinate efforts is begun." However, Fuller did not believe republican forms of government would take hold in Europe until the next century, and she was right.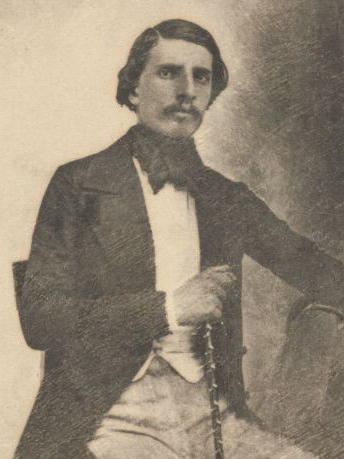 "Giovanni Angelo Ossoli
(Houghton Library,
Harvard University.
Bequest of Edith D. Fuller)
I have wished to be natural and true, but the world was not in harmony with me—nothing came right for me. I think the spirit that governs the Universe must have in reserve for me a sphere where I can develop more freely, and be happier." —Margaret Fuller
The Ossolis (Fuller began to refer to herself as the Countess Ossoli and assured her friends they had married) escaped from Rome in 1850 as the revolution fell apart. Although she had a nightmare about the voyage and wrote to friends that she had a terrible sense of foreboding, the family eventually sailed for New York where Fuller knew she could find a publisher for her history.
It was an awful journey. The captain died of cholera on the way which Nino, her baby, also contracted. Before the steamer Elizabeth could reach its destination, and under the direction of a less experienced captain, a storm crossed its path, the ship ran aground, and eventually capsized just off Fire Island, New York. Some passengers were rescued, while others waited for help. Onlookers looted the items that washed ashore.
All three Ossolis perished at sea, along with Margaret's manuscript of the Roman Revolution. Only Nino's body was recovered, and he was buried in the Fuller family plot at Mount Auburn Cemetery in Cambridge, Massachusetts, where a cenotaph in Margaret Fuller Ossoli's memory now stands.
In a plea to her American audience from Rome, Fuller had written, "I pray you do something; let [the revolution] not end in a mere cry of sentiment … Do you owe no tithe to heaven for the privileges it has showered on you, for whose achievements so many here suffer and perish daily? Deserve to retain them by helping your fellow-men to acquire them … Friends, countrymen, and lovers of virtue, lovers of freedom, lovers of truth!—be on the alert; rest not supine in your easier lives, but remember
'Mankind is one And beats with one great heart.'"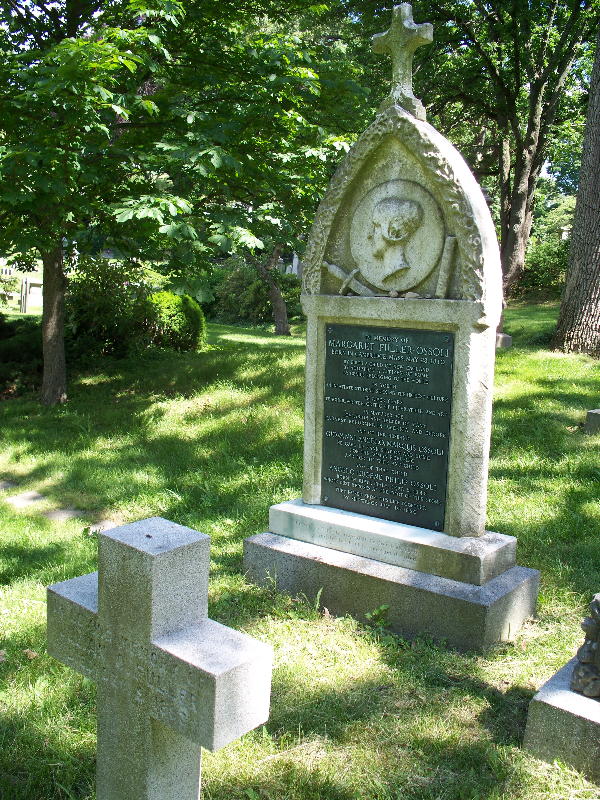 Cenotaph to Margaret
Fuller Ossoli, Mount
Auburn Cemetery,
Cambridge,
Massachusetts.

The inscription:
"Born a child of
New England,
By adoption a
citizen of Rome,
By genius belonging
to the World"