Page 9 of 10
Body of Work
"She gave a national dimension to the role of the literary critic, bringing to it a political and social conscience that has been the hallmark of its best practitioners ever since."
--Joan von Mehren
"Responding to literature and the social problems of the 1840s, she gained the power of self-expression and chose positions that made her an articulate critic of American and European culture."
--Judith Mattson Bean and Joel Myserson
"Most distinctive was her voice: politically savvy, culturally alert, and electrically charged by a vibrant intellectual personality grappling with one of her deepest conundrums--her identity as an American cosmopolitan liberal--resounding off the screen of the greatest European political cataclysm of the nineteenth century."
--Charles Capper
Articles
Literary criticism
American Monthly Magazine
Boston Daily Advertiser and Patriot
Boston Quarterly Review
The Dial
La Revue Indépendante
Present, the Spirit of the Age
New-York Tribune
Western Messenger
Cultural commentary
The Dial
New-York Tribune
Biographical sketches
The Dial
New-York Tribune
Social commentary
The Dial
New-York Tribune
United States Magazine and Democratic Review
Translations
Published privately by Elizabeth Peabody
Western Messenger
Books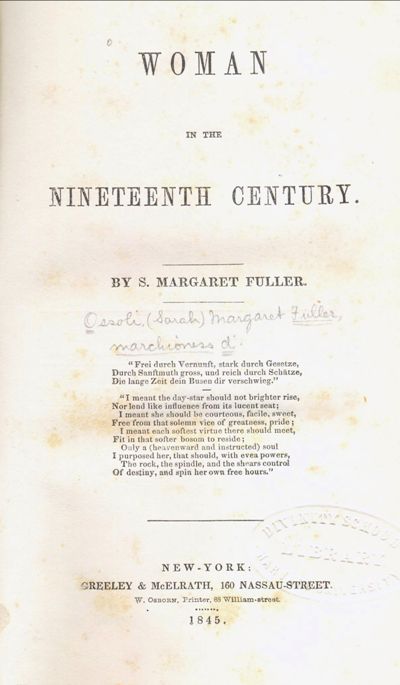 "Conversations with Goethe in the Last Years of His Life," (published by Hilliard, Gray and Company, Boston, as part of George Ripley's Specimens of Foreign Standard Literature series, 1839)
Summer on the Lakes, in 1843 (Little and Brown, Boston, 1844)
Woman in the Nineteenth Century (Greeley and McElrath, 1845)
Papers on Literature and Art (Wiley and Putnam, New York, 1846)
A Modern History of the Roman Republic (actual title unknown, manuscript lost at sea)
Published Posthumously
Memoirs of Margaret Fuller Ossoli (prepared by William Henry Channing, James Freeman Clarke, Ralph Waldo Emerson, published in 1852 by Phillips, Sampson and Company in Boston; the best selling biography of the 1850s; by the end of the century, there were 13 editions including one in German)
Woman in the Nineteenth Century and Kindred Papers (prepared by Arthur Fuller, published in 1855 by John P. Jewitt, Boston)
At Home and Abroad
(a compilation of Tribune articles and letters written from abroad; compiled by Arthur Fuller, published in 1856 by Crosby, Nichols, and Company, Boston)
Life Within and Without
(Dial and Tribune articles written in New York; compiled by Arthur Fuller, published in 1860 by Brown, Taggard, and Chase, Boston)
Fuller quote:
"I felt a delightful glow as if I had put a good deal of my true life in it, as if, suppose I went away now, the measure of my foot-print would be left on the earth."
--Margaret Fuller, on completing Woman in the Nineteenth Century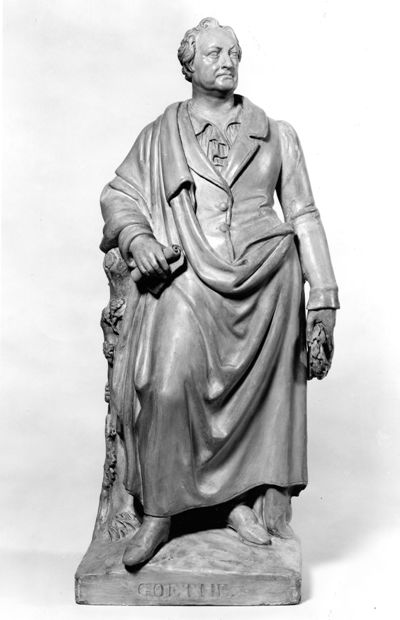 Johann Wolfgang von
Goethe, whose influence
on Fuller and the American
Transcendentalists was
profound; Fuller's biography
of him brought her acclaim
and stature (National
Park Service, Longfellow
National Historic Site )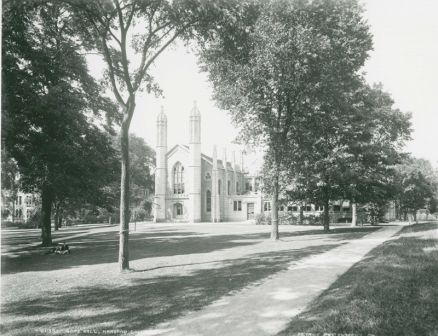 Gore Hall, Harvard College Library; Margaret Fuller was the
first woman allowed to use Harvard's library for her own research
(Cambridge Historical Commission)