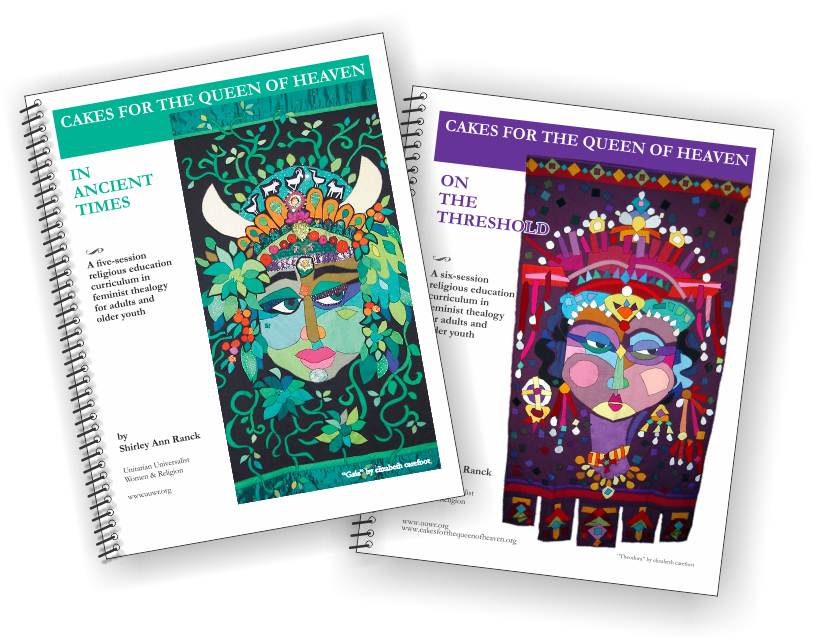 Would you like to know more about the curriculum itself? Here are answers by Nancy Irons to a few of the most commonly asked questions:
In 1977 the UUA General Assembly unanimously passed the Women & Religion Resolution, calling on all individual UUs and UU organizations to examine and put aside sexist assumptions, attitudes, and language; to explore and eliminate religious roots of sexism in myths, traditions and beliefs.
The impact of this resolution has been profound; ranging from the establishment of women's spiritual retreats, to the rapid increase in the number of female UU ministers. It has prompted incorporation of more ritual, such as chalice lighting and "Joys and Sorrows" into our services, as well as the review and revision of our Principles and Purposes. Curricula celebrating the female as divine have been developed, including Cakes for the Queen of Heaven.
Q. What is "Cakes for the Queen of Heaven". . . a cooking class?
A. "Cakes for the Queen of Heaven" is a woman honoring adult RE curriculum by Rev. Dr. Shirley Ranck. It examines pre-Judeo Christian cultures that may have worshiped the female as divine. The concepts of equality and reverence for the female in a religious setting are eye-opening to many participants.
More than Goddess 101, this workshop series examines important elements of today's women's lives; personal, interpersonal and societal. It examines how our culture has been influenced by Judeo Christian values. The primary question raised is: How would your life have been different if, when growing up, the divine had been imaged as female? Participants are encouraged to share their own experiences and beliefs, creating trust and strong bonds of friendship.
Q. Why is it called "Cakes for the Queen of Heaven?"
A. The title for the curriculum comes from the book of Jeremiah in the Hebrew Bible wherein God speaks to Jeremiah, saying: "Do you not see what they do in the cities of Judah and in the streets of Jerusalem? The children gather wood and the fathers kindle the fire, and the women knead the dough to make cakes to the Queen of Heaven and to pour out libations to other gods, in order to anger me!" (Jeremiah, 7:17-18)
Who was this "Queen of Heaven?" Who were the people that worshiped her? What sort of society did they live in? How did that society change into today's society? These are questions explored in this workshop series.
Q. Hasn't the idea of Goddess cultures been rejected by archaeological scholars?
A. The archaeological and anthropological material in "Cakes" comes from the work of top scholars. However, to this day, not all scholars agree with their interpretations and conclusions. That is precisely the point. . . . While we can never know for sure what beliefs and values were held by ancient people, there can be more than one interpretation of the facts that we do know. Interpretations built upon interpretations built upon interpretations lead to concepts and ideas that no longer resemble the facts. It is necessary for original material to be revisited and re-evaluated from new perspectives to see if old interpretations still hold true or if new interpretations are more appropriate.
Q. Why have a woman only workshop series?
A. Unfortunately, we still live in a society where women are paid less than men, are less likely to be promoted, hold fewer positions of authority, are targets of harassment and all too often of violence. A women-only series provides a safe environment for sharing, bonding and for the affirmation of the feminine. We seek to provide an environment that allows women to explore and express their life experiences, particularly their spirituality, surrounded by sisters.
Q. Been there, done that. . . . Why do it again?
A. In the past 20 years it is estimated that 80% of UU congregations have offered the "Cakes" curriculum. Many congregations have offered the series repeatedly. Women who participated state that, "Cakes changed my life! . . . It connected me with my spirituality. . . . It made me aware that history often excludes herstory." Even when the curriculum was out of print, some congregations continued to offer the series, using well worn, if not battered materials. Today there are many women who are young or new to UU or who have never experienced this series. The woman affirming message of "Cakes" is still just as relevant and necessary today as it was twenty years ago. With the newly revised and republished materials, we can begin anew.
Prepared by Nancy Irons
CMwD Women & Religion Committee
Spring 2008