Following is a summary of an event at City Hall Park in New York City by the Horace Greeley Statue by Michael Barnett, the event organizer and speaker. Photo taken by Ted Hallman.
Michael Barnett Speaks on Margaret Fuller's Reporting for the New York Tribune at Horace Greeley's Statue at City Hall Park, Manhattan.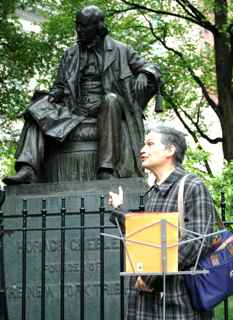 On a damp, drizzly Wednesday, May 12, 2010, theologian and educator Michael Barnett stood near the Horace Greeley statue in City Hall Park to share Margaret Fuller's insightful and provocative reporting for the New York Tribune during her Bicentennial.
For four hours, Michael received many "thumbs-ups," notable "thank-yous" and "keep up the good work" acknowledgements as well as a few of the typical New Yorker "crazy person on the street speaking" and "just ignore him completely" attitudes from hundreds of Manhattan passersby.
One earnest and interested passerby stood swept by emotion as Michael shared his ode to Margaret Fuller. Another man from the Bronx talked with my friend Ted and me for a long time about Margaret Fuller. He is interested in installing Margaret into the New York Hall of Fame for her accomplishments.
It was worthwhile taking Margaret Fuller to the steps of City Hall where Horace Greeley looks toward the location of his New York Tribune building on Newspaper Row.
My $25.00  New York City Parks and Recreation permit allowed me to speak on MF for these four hours at the site of her boss's statue.