Michael Barnett, a participant in the First Parish in Concord's bicentennial celebrations, has submitted the following descriptions of his weekend in Concord and participation on the panel discussion on May 22, 2010.  Photos at the end were taken by Ted Hallman.
"I was invited to be part of the panel discussion for Margaret Fuller's 200th Birthday Weekend Celebration at First Parish in Concord, MA, from May 20 through 23.
My partner, Ted Hallman, and I were given beautiful  hospitality by Sara and Stoney Ballard who are very active members at First Parish. On Friday, May, 21, Sara took Ted and me to Mount Auburn Cemetery to see Margaret Fuller's memorial.
On May 22, at 10 am, I participated in a panel discussion on Margaret Fuller with Joan von Mehren and Brigitte Bailey led by Reverend Jenny Rankin of First Parish. The social hall was packed with an excellent turnout!
It was lovely to be part of this panel discussion and celebration."
--Michael Barnett 
May 22, 2010 panel in Concord: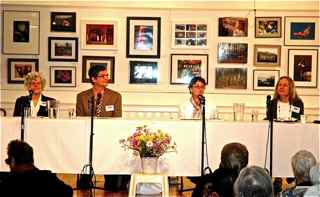 Pictured: Panelists Joan von Mehren and Michael Barnett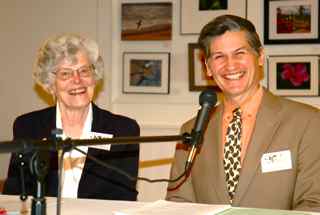 Pictured left to right: Joan von Mehren, Michael Barnett, Rev. Jenny Rankin and Prof. Brigitte Bailey.