Welcome! The Women and Religion Movement is alive and well in the 21st Century. A grassroots project started by lay leaders in the 1970s as an effort to promote examination of religious roots of sexism and patriarchy within the UUA and beyond, UU Women and Religion officially began as a task force following the unanimously-passed WOMEN AND RELIGION RESOLUTION at the 1977 UUA General Assembly. Although the Task Force was eventually sunsetted, the movement still exists in UU Districts that hold Women & Religion programs and woman-focused gatherings. It exists at General Assembly, where UUW&R has an annual gathering and a booth in the display area. And it lives in the hearts and lives of women and men who have been touched by the many changes inspired by this movement.
"We do not want a piece of the pie. It is still a patriarchal pie. We want to change the recipe!" -- Rosemary Matson
videos and more about UUW&R
Rise Up and Call Her Name
A Woman-honoring Journey into Global Earth-based Spiritualities by Elizabeth Fisher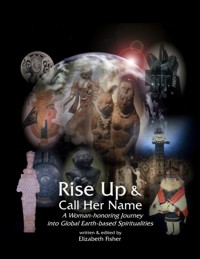 Now available in DVD, CD, and PDF formats with spiral bound Leader's Guide and Sourcebook!

Originally published by the UUWF in 1995, this multicultural and multimedia course has been experienced by thousands around the world. Many have been profoundly moved by its exciting exploration of sacred narratives that honor the cross cultural female divine, as well as the many diverse and creative activities included.
This re-release contains all the original content but is more flexible. Easier-to-use formats give facilitators additional possibilities for programming. Components are sold as a complete kit or separately.
NEW! TWENTIETH ANNIVERSARY LOWER PRICES!
UUWF and UUWR: The Differences (1989)
Editor's Notes, July 2015: I find it interesting in reading Phyllis Rickter's 1989 letter that the roles are almost reversed in 2015. While UU Women's Federation remains one of only TWO Affiliated Organizations, in 1996 the UUWR Committee was "sunsetted," meaning no longer a UUA staff-supported Committee. UUWR applied for and was granted "UUA Independent Affiliate Organization" status in 2002. UUWR was further removed from UUA organizational structure when all 60 or so of the Independent Affiliates were re-named "Related Organizations" a few years later. These groups no longer received discounts on GA exhibit booths, or a guaranteed program slot for GA, and their status was relegated to a listing on the UUA website.
Continental UUW&R continues to operate independently, within a loose network of District W&R groups and other like-minded UU women's organizations. UUW&R currently focuses on finding and providing feminist thealogy and women's spirituality resources for congregations and women's groups; UUWF continues to follow their mission of "advancing justice for women and girls and supporting their spiritual growth," supported by individual memberships and an endowment that allows them to give grants to projects that align with their mission.
While over the years, communication "has not always been good," to put it mildly, today the UUWF and UUWR are forging new relationships and brainstorming possible collaborations. We worked side-by-side exhibit booths at General Assembly 2015, and have some ideas in the works for 2016. Stay tuned!
-- Gretchen
---------------------------------------------------------
UUWF - Unitarian Universalist Women's Federation
Phyllis Rickter, President
May 5, 1989
ON THE SIMILARITIES AND DIFFERENCES BETWEEN UUWF AND WOMEN/RELIGION COMMITTEE

One of the most frequent questions asked me these days is "What's the connection between the UU Women's Federation and the Women and Religion Committee?" Or sometimes it's, "Why do we need two groups for UU women?" Or, "Can I belong to both?" Or, "How are they different?" It is good that Unitarian Universalists are asking these questions, and I am glad to have the opportunity to describe what I believe the roles of each organization to be.

First of all, the UUWF is an autonomous organization of church women's groups and individual women and men across the continent. We were formed in 1963 out of the merger of two historic women's groups, the Association of Universalist Women, founded in 1869, and the Alliance of Unitarian and Other Liberal Christian Women, founded in 1890. We are one of three associate members of the UUA; and have our own structure, funds, and staff. Our members determine the direction of our work.