Welcome! The Women and Religion Movement is alive and well in the 21st Century. A grassroots project started by lay leaders in the 1970s as an effort to promote examination of religious roots of sexism and patriarchy within the UUA and beyond, UU Women and Religion officially began as a task force following the unanimously-passed WOMEN AND RELIGION RESOLUTION at the 1977 UUA General Assembly. Although the Task Force was eventually sunsetted, the movement still exists in UU Districts that hold Women & Religion programs and woman-focused gatherings. It exists at General Assembly, where UUW&R has an annual gathering and a booth in the display area. And it lives in the hearts and lives of women and men who have been touched by the many changes inspired by this movement.
"We do not want a piece of the pie. It is still a patriarchal pie. We want to change the recipe!" -- Rosemary Matson
videos and more about UUW&R
The Water Ritual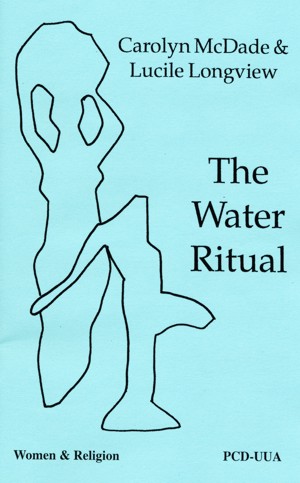 We [were] asked to make available the original worship service Coming Home, Like Rivers to the Sea: A Woman's Ritual for distribution at the 1997 General Assembly of Unitarian Universalists in Phoenix, Arizona.
We originally created the worship service for the November 1980 Women and Religion Continental Convocation of Unitarian Universalists in East Lansing, Michigan.
As we worked to give the service shape, our awareness increased of water's presence and deep meaning in our lives. Water is more than simply a metaphor. It is elemental and primary, calling forth feelings of awe and reverence.
Coming back to this service again after seventeen years, we see in it a deeper meaning than we had been aware of earlier. Acknowledging that the ocean is considered by many to be the place from which all life on our planet came—it is the womb of life—and that amniotic waters surround each of us prenatally, we now realize that "Coming Home, Like Rivers to the Sea" was for us a new story of creation.
Lucile Longview
Rosemary Matson
May 21, 1997