Welcome to UU Women and Religion
Welcome! The Women and Religion Movement is alive and well in the 21st Century. A grassroots project started by lay leaders in the 1970s as an effort to promote examination of religious roots of sexism and patriarchy within the UUA and beyond, UU Women and Religion officially began as a task force following the unanimously-passed WOMEN AND RELIGION RESOLUTION at the 1977 UUA General Assembly. Although the Task Force was eventually sunsetted, the movement still exists in UU Districts that hold Women & Religion programs and woman-focused gatherings. It exists at General Assembly, where UUW&R has an annual gathering and a booth in the display area. And it lives in the hearts and lives of women and men who have been touched by the many changes inspired by this movement.
"We do not want a piece of the pie. It is still a patriarchal pie. We want to change the recipe!" -- Rosemary Matson
40th Anniversary of the UU Women and Religion Resolution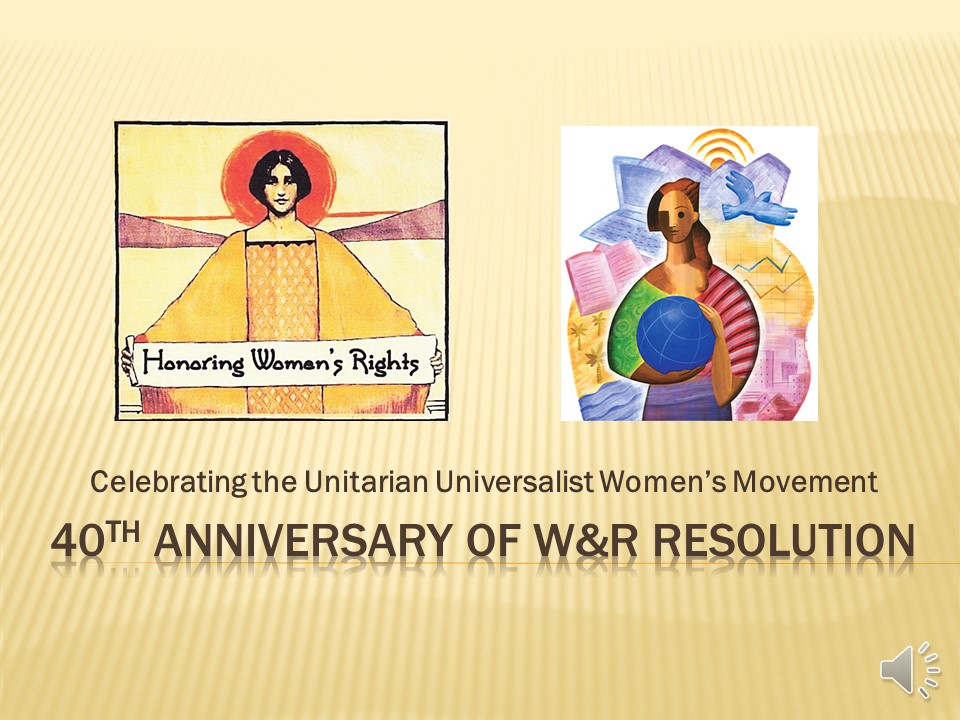 2017 marks the 40th Anniversary of the passage of the Women and Religion Resolution that resulted in the creation of a Continental UUWR committee, W&R committees in 19 Districts, and much more. Liz Fisher has compiled an extensive history of the Resolution in a slideshow!
You can view it as a slideshow with narration, (it may take some time load - 65MB file) or download the PDF version:
pdf 40th Anniversary of UU Women and Religion Resolution (9.44 MB>)>
Brigid's Grove: Womanrunes
What are Womanrunes and why use them?

Womanrunes are a unique and powerful divination system that use simple, woman-identified symbols to connect deeply with your own inner wisdom as well as the flow of womanspirit knowledge that surrounds you. Used as a personal oracle, they offer spiritual insight, understanding, and guidance as well as calls to action and discovery. Women who use them are amazed to discover how the symbols and interpretations reach out with exactly what you need in that moment. Women's experiences with Womanrunes are powerful, magical, inspirational, potent, and mystical. The wisdom within them can be drawn upon again and again, often uncovering new information, understanding, and truth with each reading. They amaze me every day! - Molly Remer, brigidsgrove.com
Gaia's Cry - NEW BOOK!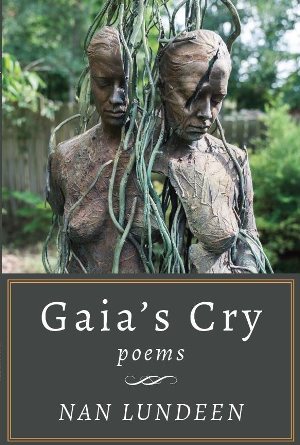 Just released - Nan Lundeen's new book of poetry, Gaia's Cry. We have signed copies!
"Gaia exemplifies the earth as a living entity, which we must preserve and sustain for our children," says sculptor Dora Natella, whose work adorns the cover of Nan Lundeen's cautionary collection of poems, Gaia's Cry. As global warming accelerates, Nan asks what form Gaia will take during her grandson Elijah's lifetime. Ancient goddess myths and Native American legends enrich her vision of Earth's startling beauty in a book that alerts, informs, and seeks strength in the courage of yellow wildflowers.
+++++++++++++++++++++++++++++++++++++++++++++
"Science has given us the facts and evidence. Climate change is real and we are the problem. But, clear cold facts too often do not fire hearts and minds to change the world. That takes the poetic power of beauty, love, life, eloquence, and empathy. Thank you, Nan Lundeen, for fanning those flames for us." —Mike Keen, Chancellor's Professor Emeritus of Sustainability Studies, Indiana University South Bend
Help us Capture Our Story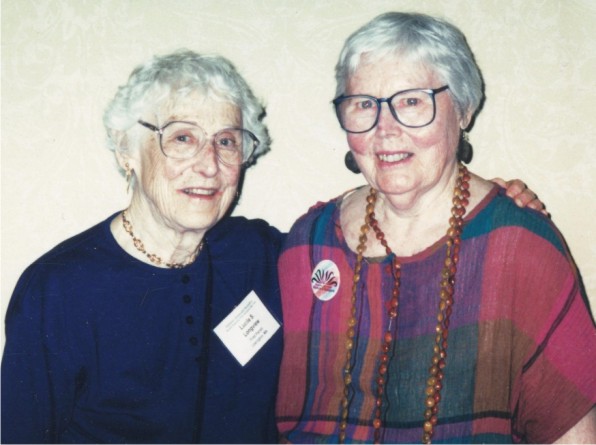 In this 40th year since the adoption of the UU WOMEN AND RELIGION RESOLUTION, we are making a special effort to collect and archive our story.
Do you have photos of women who you remember for their contribution to the UU Women's movement?
Do you know women you could ask for photos, stories, or reflections that you could help send to us?
Please send digital copies of photos, stories, reflections to photos@uuwr.org.
If you know someone we should contact for their help in this project, please email Julia Harris at scotfiddle@aol.com with the contact information.
AND - watch for announcements of a special event at General Assembly!
photo: Lucile Longview and Rosemary Matson