Welcome! The Women and Religion Movement is alive and well in the 21st Century. A grassroots project started by lay leaders in the 1970s as an effort to promote examination of religious roots of sexism and patriarchy within the UUA and beyond, UU Women and Religion officially began as a task force following the unanimously-passed WOMEN AND RELIGION RESOLUTION at the 1977 UUA General Assembly. Although the Task Force was eventually sunsetted, the movement still exists in UU Districts that hold Women & Religion programs and woman-focused gatherings. It exists at General Assembly, where UUW&R has an annual gathering and a booth in the display area. And it lives in the hearts and lives of women and men who have been touched by the many changes inspired by this movement.
"We do not want a piece of the pie. It is still a patriarchal pie. We want to change the recipe!" -- Rosemary Matson
videos and more about UUW&R
Rosemary Matson passes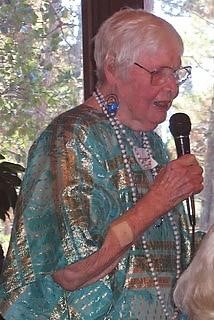 Rosemary Matson — A Woman Without Fear
Rosemary Matson passed away peacefully on September 27, 2014 at her long-time home in Carmel Valley, California. Born on September 20, 1917 as Rosemary Ann Thompson at her family farm in Geneva, Iowa, she was 97 years old. She modeled living by a set of values that included: insisting on equal opportunity and an institutional voice for women; putting a face on the enemy; demonstrating world peace is possible; and standing with workers demanding fair treatment by employers. And, she deeply loved cats, having many close furry friends during her long life.
Rosemary adored grassroots organizing. Over many years she was active in every facet of the Unitarian Universalist denominational Women & Religion activities, from advocating for passage of the 1977 Women and Religion Resolution at General Assembly (she was appointed co-chair of the Continental Committee on Women and Religion) to the 2001 formation of the UUA Women and Religion affiliate. During this period the activities to rid the denomination of sexist practices were vibrant, including: revisioning theology (thealogy), correcting sexist language in hymns and readings, and exposing and transforming sexist attitudes regarding leadership capabilities.
Rosemary was in the thick of it.
2015 ASWM Symposium Portland, OR April 11th
The Association for the Study of Women and Mythology (ASWM) supports the work of those whose scholarly/creative endeavors explore or elucidate aspects of the sacred feminine, women and mythology. ASWM is a not-for-profit membership organization whose dues and fees support the organization's work.
Call for Proposals
"Tales and Totems: Lineage and Myth in Goddess Scholarship"
The work of Goddess Scholarship is intrinsically bound within a framework where we actively seek out, document, and honor the stories and concerns that animated the lives of our foremothers. We do this so that these stories will contribute meaningfully in the context of modern life. The research methodologies have focused on representing our historical, thealogical, philosophical, mythological, symbolic, cultural, linguistic and aesthetic lineages.

In keeping with this emphasis of our methodology and our discipline, and embracing the sacred Nature of this year's conference location in the Pacific Northwest rich with the tales and totems of the First Nations, ASWM invites papers and panels including, but not limited to the following topics: