Curricula
Called to Community: New Directions in UU Ministry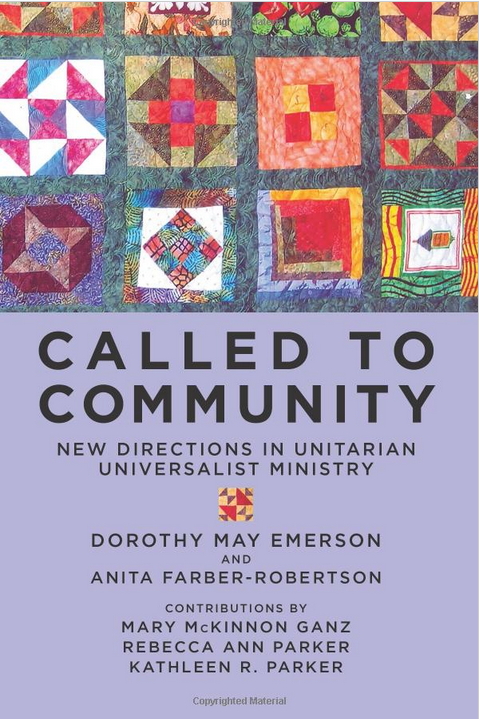 A new book by Dorothy May Emerson (Author), Anita Farber-Robertson (Author),Mary McKinnon Ganz (Contributor) Rebecca Ann Parker (Contributor), Kathleen R. Parker (Contributor)
This book offers thought-provoking perspectives on putting liberal religious values into action to address real problems in local communities and in the world. The story of these innovative ministries is intended to inspire change in thinking and practice. This collection of essays invites readers to consider how liberal religion can address social issues through innovative community ministries beyond the walls of congregations. It provides historical and theological perspectives on community ministry and offers engaging real-life stories of community ministries in action. The authors have a long history of working in community ministry and they bring their experience, their inspiration, and their concerns, shared by them and their ministerial colleagues in the field to their accounts of this important story. There is no other book that tells the story of the challenges and potential of Unitarian Universalist Community Ministry for today and the future.
Available through Amazon.com.
Cakes - Quantity Discount
A religious education curriculum in feminist thealogy for adults and older youth
by Rev. Shirley Ann Ranck, PhD
IN ANCIENT TIMES (five sessions)
ON THE THRESHOLD (six sessions)
Quantity discount!
Both volumes for $60 per set (4 or more)!
(regularly $80/set)
IN ANCIENT TIMES: This five-session Volume I of the popular adult religious education curriculum includes an introductory section featuring author Shirley's Ranck's "Statement of Feminist Thealogy," Elinor Artman's "Brief Herstory of Cakes," and Nancy Vedder-Shults, "Baking Cakes for the Queen of Heaven." The themes of the Session Plans are: The Sacred Female, In the Name of the Mother and the Daughter, Womanpower, The First Turning-From Goddess to God, and Reclaiming Women's Heritage of Peace." The resource section includes supplementary essays by a number of important authors, a listing of highly recommended materials, and the sheet music of songs by Carole Eagleheart and Ann Forfreedom for use with the curriculum. The curriculum also includes a CD-ROM with five Visual Programs to accompany the sessions, plus resource material for easy distribution to participants.

ON THE THRESHOLD: In the six-session continuation of the course, Volume II, we will continue our journey into the past to reclaim the stories of powerful women to be found in ancient Judaism and in early Christianity. We will also look at the global silencing and brutalization of women that accompanied the rise of patriarchal religion and society. Finally we will celebrate the exciting new world-view and thealogy that has emerged in our time, and explore the personal and social changes that may be suggested by that new world-view and thealogy. We will continue the complex process of telling a new story.