Welcome!
The Women and Religion Movement is alive and well in the 21st Century. A grassroots project started by lay leaders in the 1970s as an effort to promote examination of religious roots of sexism and patriarchy within the UUA, UU Women and Religion officially began as a task force following the unanimously-passed WOMEN AND RELIGION RESOLUTION at the 1977 UUA General Assembly. Although the Task Force was eventually sunsetted, the movement still exists in UU Districts that hold Women & Religion programs and woman-focused gatherings. It exists at General Assembly, where UUW&R has an annual gathering and a booth in the display area. And it lives in the hearts and lives of women and men who have been touched by the many changes inspired by this movement.
"We do not want a piece of the pie. It is still a patriarchal pie. We want to change the recipe!" -- Rosemary Matson

videos and more about UUW&R
Consensus Resources

The following materials have been compiled to provide an overview of Consensus Decision Making, including definitions and suggested procedures. -- Nancy Irons, a past member of W&R in CMwD.
Consensus decision-making is a group decision making process that not only seeks the agreement of most participants, but also the resolution or mitigation of minority objections. This strategy involves everyone playing a role in the decision making of the group. In order for this to be successful it is important to be open to compromise!
Consensus is usually defined as meaning both general agreement, and the process of getting to such agreement. Consensus decision-making is thus concerned primarily with that process.
While not as common as other decision-making procedures, such as the parliamentary procedure explained in Robert's Rules of Order, consensus is used by a wide variety of groups. Religious denominations such as the Quakers. . . .
Keep Margaret Fuller's Spirit Alive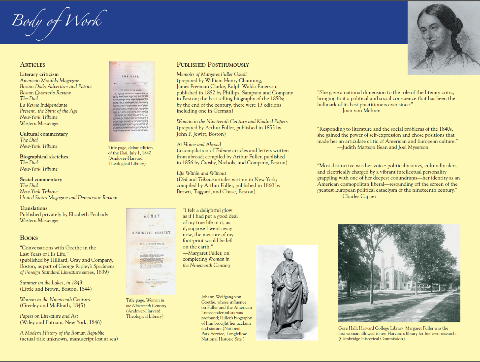 The Margaret Fuller Bicentennial Committee would like to thank everyone who hosted the traveling display "Why Margaret Fuller Matters," celebrated Margaret Fuller Sunday, and created or participated in the many programs that were part of the Bicentennial all over the country. You have helped make this Bicentennial both rewarding and memorable.
The final Boston-area event was held on May 25, 2011, at Max and Dylan's Restaurant at 15 West Street in Boston, the former Peabody Book Room, where Fuller offered several of her famed "Conversations." We are happy to report that the Boston Landmarks Commission voted unanimously to designate 13-15 West Street a Boston City Landmark, with a recommendation to pursue national designation for the site. There was no owner opposition to this listing, and no protests to the nomination. This is happy news after three years of waiting. What this means is that any attempts to demolish or take the building further away from its original configuration will have to go through a process of scrutiny that will hopefully give the public time to defend the site. It does not make the building invulnerable, but it does establish a first line of defense. Be sure to visit the site next time you're in Boston.
Although our scheduled program has come to an end, we would like to remind you of the extensive resources that will remain on our website: www.margaretfuller.org.