Welcome!
The Women and Religion Movement is alive and well in the 21st Century. A grassroots project started by lay leaders in the 1970s as an effort to promote examination of religious roots of sexism and patriarchy within the UUA, UU Women and Religion officially began as a task force following the unanimously-passed WOMEN AND RELIGION RESOLUTION at the 1977 UUA General Assembly. Although the Task Force was eventually sunsetted, the movement still exists in UU Districts that hold Women & Religion programs and woman-focused gatherings. It exists at General Assembly, where UUW&R has an annual gathering and a booth in the display area. And it lives in the hearts and lives of women and men who have been touched by the many changes inspired by this movement.
"We do not want a piece of the pie. It is still a patriarchal pie. We want to change the recipe!" -- Rosemary Matson

videos and more about UUW&R
Remembering Merlin Stone
On September 24th, people gathered at the UU Church of Clearwater Florida to honor the life and work of Merlin Stone. The event was streamed live on Z Budapest's Ustream channel: http://www.ustream.tv/channel/merlin-stone-memorial and the video files now are there to view. Video was quite fuzzy but much of the audio can be heard if you turn up the volume. I was particularly moved by Merlin's "significant other ... soulmate and kindred spirit" of 34 years, Leonard Schneir. "I thought I was a free spirit," he said, "then I met Merlin. I thought I was a non-conformist, then I met Merlin... You were the lighthouse, I was lost at sea..."
Z Budapest and Merlin Stone's family have been raising money to produce a documentary DVD "In Search of Merlin Stone." Rev. Shirley Ranck was interviewed for inclusion in the DVD. Learn more at www.merlinstone.net.
Northern New England Retreat Cancelled
It is with great sadness that I report to you that as of our registration deadline we do not have enough women to hold our retreat scheduled for 9/30-10/2. It was our hope that becoming part of the district would free up our energies for programming at the retreat, but we simply do not have enough workshop leaders or participants to go forward.
There is another issue which I see needs to be addressed: a very small group of women have been shouldering the organizing of these retreats for many years. There has been an urgent call for new volunteers for more than two years now, and only one new person has stepped in to help.
We see this cancellation as a natural consequence of this dynamic. It is impossible for only a few to continue to have the energy, time, and resources to create value for such a large group.
New women must step forward. We have received many sincere and concerned suggestions for how we could have prevented this cancellation, but I'm left with a heavy heart wondering where was that energy and commitment when so much work (by so few) was being put into: finding a new site after Rockcraft, allying with the District, and planning /this/ retreat. It is too little, too late.
We have a tentative date for a retreat at Geneva Point Center for next year. It is not guaranteed however and may be released. The current planning committee is largely taking a step back.
The question is posed: How much do you value our weekends of connection and restoration and community?
Susan Gorman and Faith Barnes
SageWoman Magazine
This September marks SageWoman's 25th year of connecting women to the Goddess and to one another.
However, this anniversary also comes at the time of serious crisis. Borders — a major retail bookstore chain which sold 40% of their wholesale copies in the U.S. — went bankrupt and is closing all of its stores. Borders owes SageWoman Magazine $12,064 for sales in 2010 and 2011 for which they will never be paid. www.sagewoman.com
Rosemary Matson Awarded Honorary Doctorate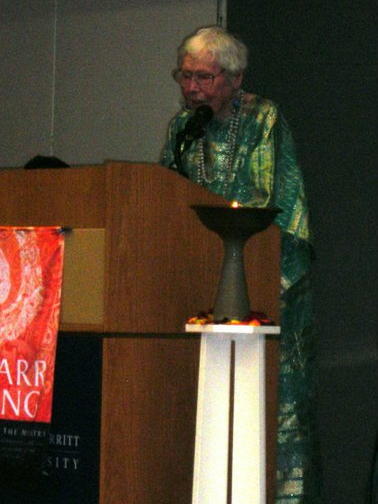 May 18, 2011 - Rosemary Matson received an Honorary Doctorate of Humane Letters from Starr King School for the Ministry. Pacific Central District UUW&R women gathered to help celebrate the occasion. Visit their Facebook page for more: www.pcduuwr.org.
Rise Up and Call Her Name curriculum author Liz Fisher, created a booklet honoring Rosemary's life. (DOWNLOAD a PDF file) Liz says:
"In 1977 Rosemary advocated with other lay women for passage of the Women and Religion Resolution at General Assembly. She was soon appointed by UUA President Paul Carnes to co-chair the President's Continental Committee on Women and Religion (1977-1980). During this period the activities to rid the denomination of sexist practices were vibrant, including: revisioning theology (thealogy), correcting sexist language in hymns and readings, and exposing and transforming sexist attitudes regarding leadership capabilities. Rosemary was in the thick of it. ..."
Congratulations, Rosemary!