Store
We normally ship your order within 48 hours. If you have any questions please contact me -- Gretchen 269-369-1114
We hope to be on the road again in October at UU Women's Connection retreat in Racine Wisconsin, and in February at SWUUWCon in Dallas/Ft Worth area. Covid safety protocols will impact our decisions on whether to attend.
A note about what you buy from UUW&R: Some creators have donated their works to the organization. Others still receive royalties based on sales. So buying anything from the UUW&R Store supports both UUWR's ability to keep these resources available, and supports the creators! You can also donate directly using the Donate form at the bottom of the page.
Choose a category below or item at right to begin shopping!
ORDER ONLINE WITH YOUR CREDIT CARD or PayPal account!





September 2020 News
Welcome Back!
Welcome back to Geri Kennedy, who has recently re-joined the Continental UUWR core group! She's excited to help working on developing and funding upcoming online programs and more women's spirituality resources.
CALL for VOLUNTEERS
Continental Women & Religion is re-energized and eager to bring you more women inspiring and women honoring programs. We can't do it alone though. If you are interested in helping in any capacity, but especially with newsletter, fundraising, website, communications, virtual retreats and programs, or if you have ideas, please get in touch with Gretchen Ohmann, info@uuwr.org.
Cakes Classes Online
Stay tuned! CUUWA (Canadian UU Women's Association) and various congregations are planning online Cakes classes this fall. The best place to stay informed is in the Cakes Facilitators Facebook Group.
UU Women's Gatherings
Click on a star to go to their website. (If links disappear, refresh the page)
UU Womensphere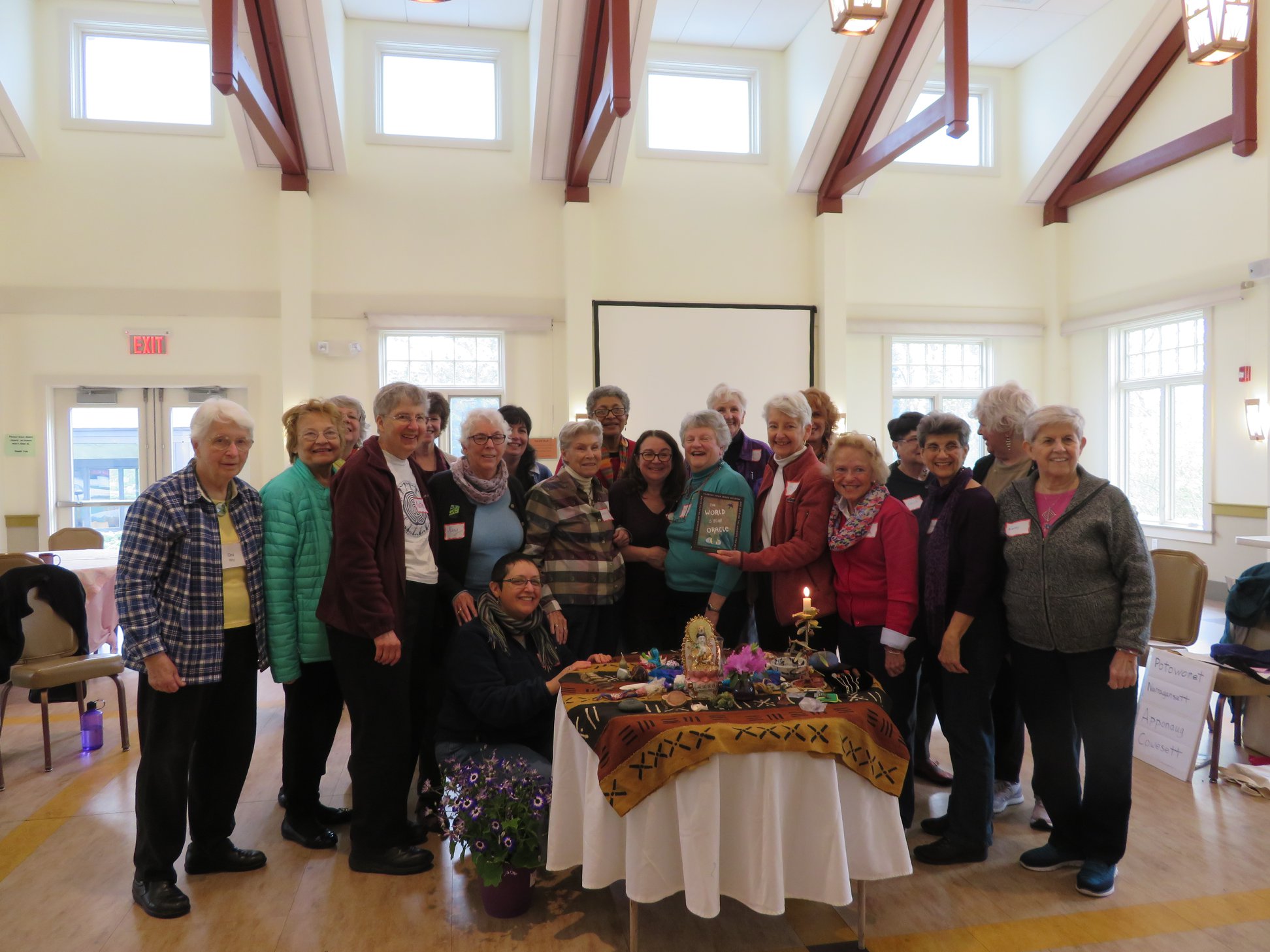 Questions? Email any questions to bcdwomensphere@gmail.com
Keep in touch! https://www.facebook.com/uuwomensphere/
Womensphere 2019 Fall Retreat at Senexet House !
Saturday, September 28th -Sunday, September 29th
Womensphere, a group of Unitarian Universalist women in south-eastern New England, invites all women to a fun and relaxing weekend filled with singing & dancing, meditation & sharing, crafts & games,We will learn about the importance of ritual in our daily lives and honor Gaia and her world. Our fall retreat will take place at Senexet House, a beautiful Victorian retreat center nestled in the forest of Woodstock, Connecticut. All of the delicious meals are provided by Senexet House. No need to cook!
GA 2019 Volunteers
Once again, UUWR will partner with UU Women's Federation to bring the UUWR Store, The Red Tent, and more to the GA Exhibit Hall.
We have room for one more volunteer! UUWF will pay up to $150 for 10 hours' work during the week. Hours could include help with setup on Tuesday, or take-down on Sunday afternoon. Email Gretchen if you are interested!
Specific tasks:
Help set up and decorate The Red Tent
Hang banners in back of booth
Put tablecloths on tables
Unpack and lay out books and CDs on tables
Find creative ways to display other goodies like Goddess figurines and jewelry
Staff the booth periodically throughout the GA
Learn how to "ring up" purchases using PayPal card/chip swiper
Help keep track of inventory
Engage with people and guide them to appropriate information about UUWR, UUWF, the New Prophetic Sisterhood, and UU women's retreats around the continent
Invite people to join UUWF for a donation of any amount
Let people know about the Thursday UUWF breakfast and the Sermon Award winner
Exhibit Hall Hours
SET UP:
Tuesday, June 18 9:00 a.m. – 5:00 p.m.
Wednesday, June 19 9:00 a.m. – 12:00 p.m.
OPEN:
Wednesday, June 19 12:00 p.m. – 7:00 p.m.
Thursday, June 20 10:30 a.m. – 7:00 p.m.
Friday, June 21 10:30 a.m. – 7:00 p.m.
Saturday, June 22 10:30 a.m. – 7:00 p.m.
*Sunday, June 23 11:30 a.m. – 2:30 p.m. *open to the public
PACK UP:
Sunday, June 23 2:30 p.m. – 8:00 p.m.
40th Anniversary of the UU Women and Religion Resolution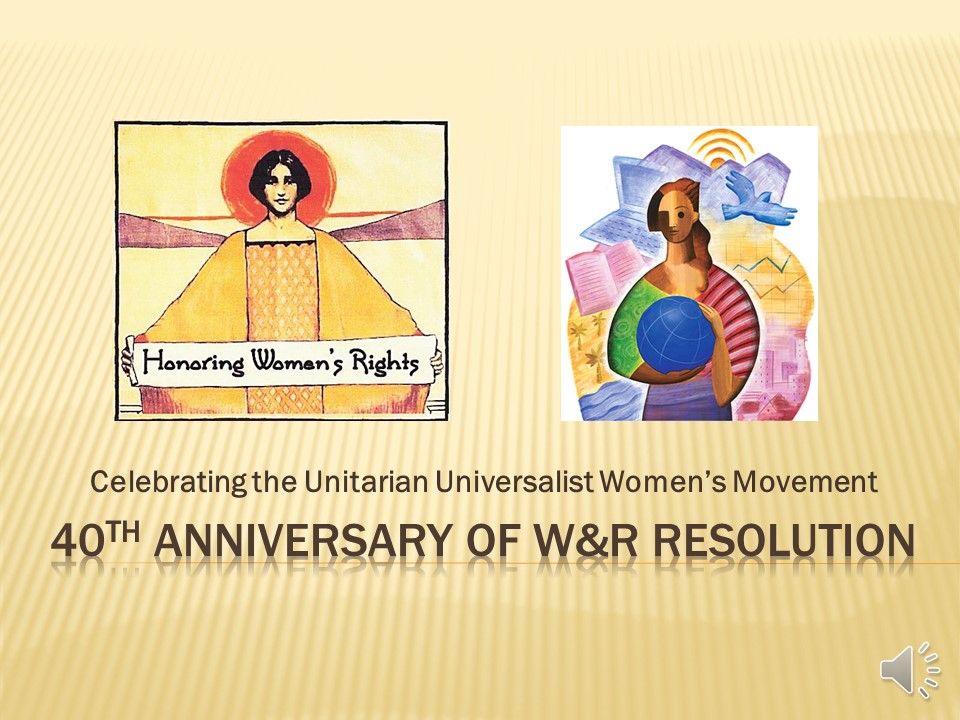 2017 marks the 40th Anniversary of the passage of the Women and Religion Resolution that resulted in the creation of a Continental UUWR committee, W&R committees in 19 Districts, and much more. Liz Fisher has compiled an extensive history of the Resolution in a slideshow!
You can view it as a slideshow with narration, (it may take some time load - 65MB file) or download the PDF version:
pdf 40th Anniversary of UU Women and Religion Resolution (9.44 MB)