Revitalize UU Women's Groups
compiled by the Association of Universalist Women at First Universalist Church in Minneapolis, MN

Cleansing Our Temple

Reproductive Justice Resources Page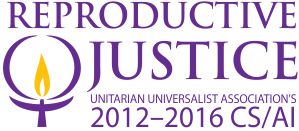 UUWR REPRODUCTIVE JUSTICE RESOURCES PAGE
If you have any questions, please contact UU Women and Religion, info@uuwr.org.
Main resources from the UUA: www.uua.org/reproductive
UU Womenspirit Newsletter
The gorgeous UU Womenspirit newsletter She Speaks is available here: http://uuwomenspirit.org/newsletter/
UU Women's Connection Newsletter
UU Women's Connection newsletter is online, http://www.uuwomensconnection.org/newsletters
Calendar invitation
We invite you to send your events for inclusion on our calendar! UU women's spiritual events in congregations and at the District level are welcome.
Cakes for the Queen of Heaven website