This year, UUWR will partner with International Women's Convocation in the GA exhibit hall!
Sadly, we won't have the Red Tent - we're committed to covid safety protocols, and the enclosed space doesn't allow for social distancing.
Join and win! 6 Gift Bags will be given away. Join UUWR for a donation of any amount by June 25th and be entered into a drawing. Gift Bag includes nearly $200 in works by UU women:
Circle Model of Shared Leadership - Elizabeth Fisher
Blessing Book journal - Matrika Press
Gaia's Cry poetry - Nan Lundeen
Women of Spirit Anthology - Twinkle Marie Porter Manning
Revolution by Resolution - Dorothy Emerson et al
UU Women and Religion Movement herstory - Rosemary Matson
The Water Ritual - Carolyn McDade and Lucile Longview
CD: As the River We Flow - Women's Drumming Circle of First U South Bend Indiana
CD: Thirteen Ships - Carole Eagleheart
DVD: Rise Up and Call Her Name - Elizabeth Fisher
DVD: Things We Don't Talk About (The Red Tent movement) - Isadora Leidenfrost
button: "We Want to Change the Recipe" - Rosemary Matson
scented soap bar - Peighton Carter
Goddess figurine - Molly Remer, Brigid's Grove
hand-knit scarf (choice of colors) - Pat Reed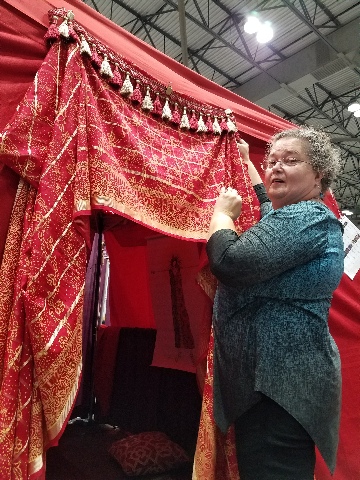 UU women's GA 2019 events are listed at right.
Be sure to visit us in the Exhibit Hall booths 332-336 for The Red Tent, the UUWR Store and more!