The International Convo website has more and better photos, great videos and reports from the event. Please keep checking back at
http://portal.icuuw.com
. A DVD is being produced, but no word yet as to when it will be available.
Here are some more tidbits from my experience at the Convo: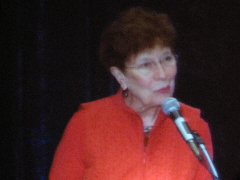 Barbara Beach of the ICUUW Advisory Committee announced many of the sessions and introduced speakers. Her wit was wonderful, and her sense of humor infectious.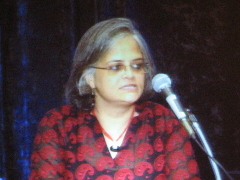 Dr. Kalpana Kannabiran of India, is Professor of Sociology at NALSAR University of Law. She spoke of inspiration from her mother, whom she has worked with in the struggle for women's rights. She sang a hymn to Sarasvati as an example of that inspiration.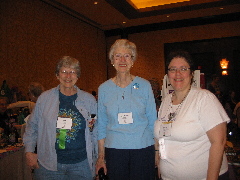 Some of the UUW&R Core Group: Treasurer Patti Clark of Houston (who is also ICUUW Treasurer and Registrar!), Co-conveners Rev. Shirley Ranck (currently in California) and Gretchen Ohmann of Michigan.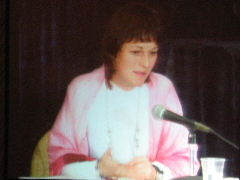 One of the panel presenters, Krisztina Pall, Transylvania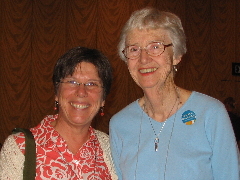 Laura Nagel, one of the main organizers of ICUUW, is a past co-convener of UUW&R. Here she is catching up with Rev. Shirley Ranck.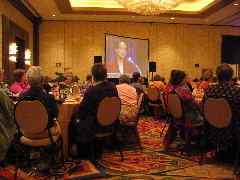 Listening to Rev. Rosemary Bray McNatt,

senior minister of The Fourth Universalist Society in the City of New York.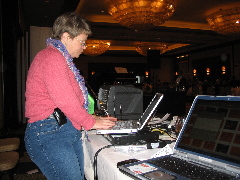 The hard-working Dr. Melodie Feather, getting slide show presentations ready for Sunday morning programs.
My personal experiences included the workshop Singing in Sacred Circle with Shelley Graff.
Shelley taught us a birthday song that we then sang to honor Sally, whose birthday was coming up in March.
Carolyn McDade was also attending the workshop. In addition to the woman-honoring chants Shelley taught us, we sang "Spirit of Life" to Carolyn in English, and Rosario sang it for us all in Hungarian. From the look on Shelley's face, I think she was in heaven!

We spoke to lots of women at the UUW&R exhibit table. UUW&R core group member Laurie James, and IALRW's Susan Caravello especially pitched in during the flurry of activity Thursday night. I'm pleased to see plenty of continued interest in the Cakes for the Queen of Heaven curriculum, in Rise Up, and in women's spirituality groups in our congregations.

I was able to participate in the opening ceremony with the other drummers, as Margot Adler led us in "The Earth, the Air, the Fire, the Water," to recognize and honor the elements. I love to be in the drumming circle.

We gathered each day in Global Sisters Groups, discussing women's issues near and dear to us and working on a process to develop a consensus on a plan of action that we all can participate in. The discussions were distilled down to three areas: Education, stopping Violence against women, and Health Care.

I didn't get many photos Sunday, since I'd volunteered to help run slides that day. I even got to run the sound system for a few minutes!

All in all, an amazing experience to share with nearly 600 women. A recurring impression I had was that so many "big name" keynote speakers were engaging in the process together with participants. We're all in the work together! It was common to find oneself sitting next to Dr. Creamlimon Nongbri in Global Sisters Groups, or across the table from Cathy Cordes of UU Church Partner Council at lunch, or working with Sarah Dan Jones of the UU Musicians Network. We heard from every woman the concerns she is working on in her own congregation. These are the leaders in our churches and in our denomination. Did you know that 60+ percent of active church members in the US are women?

If you know anyone who was able to attend, I invite you to talk to her and find out what her experiences were at the Convocation! If not, there should be some resources made available by the Convo organizers for presentation in congregations. There is an online community forming to carry forward the connections we made and the work we have committed to do. Stay tuned...