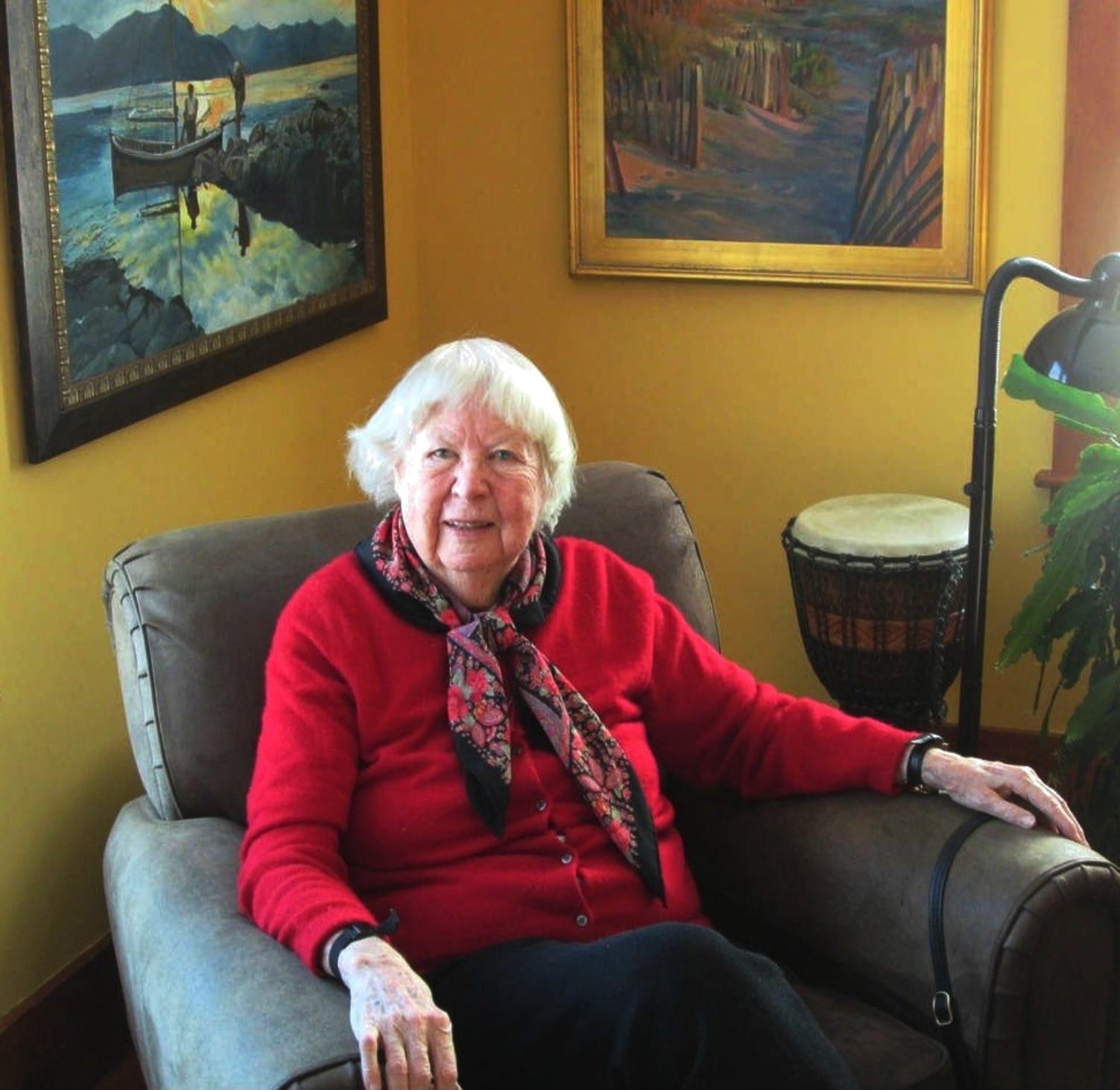 As you may know, last week Helen Hughes passed away peacefully in her sleep at her home in Belfast, ME. Many people at the UU Church in Park Forest, Illinois remember her dearly and wish to share memories with one another. There will be a memorial celebration to honor her on Saturday, June 20th at 2pm at UUCC. Our CUUPs chapter will follow the memorial with a Summer Solstice Celebration. You are invited to attend both of these events. We look forward to seeing you. If you cannot attend, please keep her in mind at that time, perhaps by lighting a candle for her.
Helen Elizabeth Hughes, PhD
Helen was born April 23, 1922, in Damariscotta, ME, the last of 10 children, to the Rev. Thomas Bennett Hughes (1865-1957) and the Rev. Sarah Barbara Mayhew Hughes (1876-1972). She died in Belfast, May 26, 2015. She was 93.
Helen was married to Richard Garland Purinton (1918-2004), with whom she had three sons, two of whom predeceased her: Richard Jordan Purinton (1943-1975) and David Hughes Purinton (1948-1949).

She is survived by one sister Victoria Lena Reiss of Shady, NY; her son, Jonathan Mayhew Purinton (1946-) of Warren, ME; four grandchildren and four great-grandchildren.

Helen was educated by the public schools in Maine, Connecticut and Florida; secondary education at Northfield School, Mass.; she attended Butler University (1940-1942), received her B.A. and M.S. from California State Universities; Ph.D. at the University of Chicago (1970).

She was a school teacher, a school psychologist, a university professor at Governor State University, and founding editor of the periodical "The Creative Woman" (1977-1992). The university made all twelve volumes of the Creative Woman available on line at http://libguides.govst.edu/TheCreativeWoman. She was active in university affairs including the faculty union where she served as president for three years. She maintained an independent practice in neuropsychology using the Halstead Battery of neuropsychological tests, and served as an expert witness in court cases.

Dr. Hughes was a member of the Unitarian Universalist Churches for 60 years, serving in leadership positions such as the chairman of the board of trustees and chair of the Women and Religion Committee of the Central Midwest district of the UUA. She helped to form a church-affiliated group on women's spirituality that met every full moon from 1961 to the present time. She gave many public lectures including sermons at various UU Churches. She was active in social justice movements including civil rights, the peace movement, women's equality and the environment. She loved music, art, outdoor activities such as sailing, biking, hiking and camping. She explored a wide range of social, political and economic issues.

Donations in her honor may be made to The Maine People's Alliance at: https://www.mainepeoplesalliance.org/civicrm/contribute/transact?reset=1&id=2
Here are several photos of Helen from UU women's retreats in the late 90s:
{gallery}Helen-Hughes{/gallery}