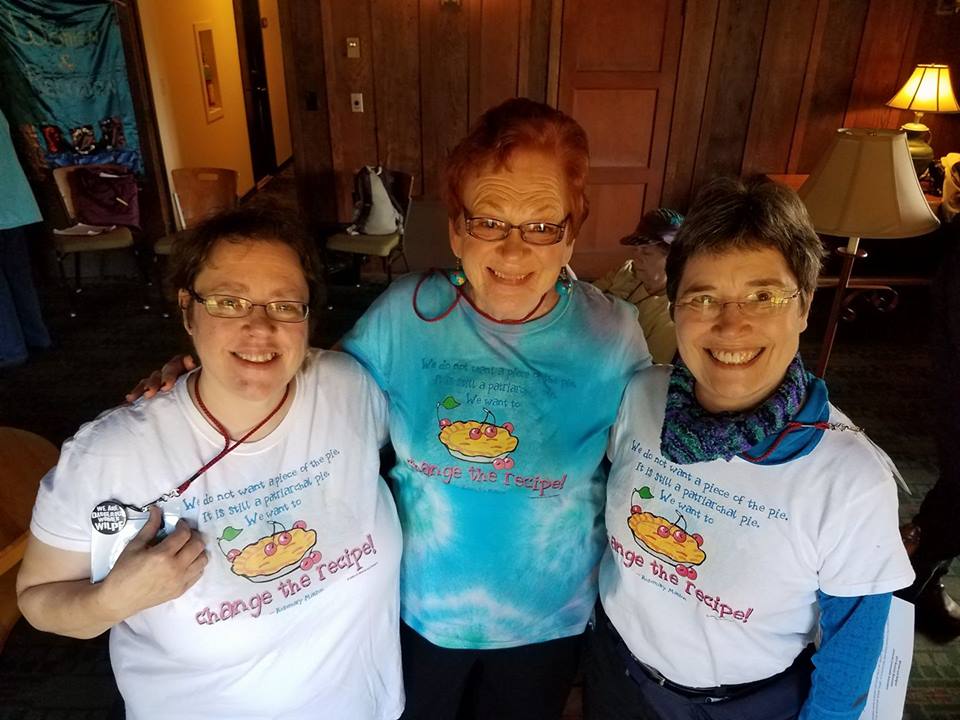 Jane Britton passed away March 21, 2019 from lung cancer. At left is a picture of Gretchen O, Jane and Barbara S at the Asilomar international women's conference. Jane was a very loyal supporter of UUWR and a regular participant in District retreats as well as a close associate of Rosemary Matson and Meg Bowman. She was a member of the UU Church of Monterey for decades.
Elizabeth Fisher says of Jane, She was a jolly sort and well-liked by many. She took a lot of fabulous candid portraits of the church and activist community members and shared them with Rosemary, especially in her later years when Rosemary was not out and about as much. She read a lot. When she was in town between her travels to foreign places we often saw her at the Library, searching for new facts and entertaining fiction. We also would run into her walking along the Monterey Bay. She enjoyed local restaurants, always ready to recommend an overlooked gem. We will miss her.
Jane Britton
Sept. 12, 1945 - March 21, 2019 Pacific Grove
Long-time Pacific Grove resident, speech pathologist, world traveler, feminist, peace activist, beloved sister, and friend to all she met, sadly passed away 3/21/2019.
https://missionmortuary.com/tribute/details/131347/Jane-Britton/obituary.html#content-start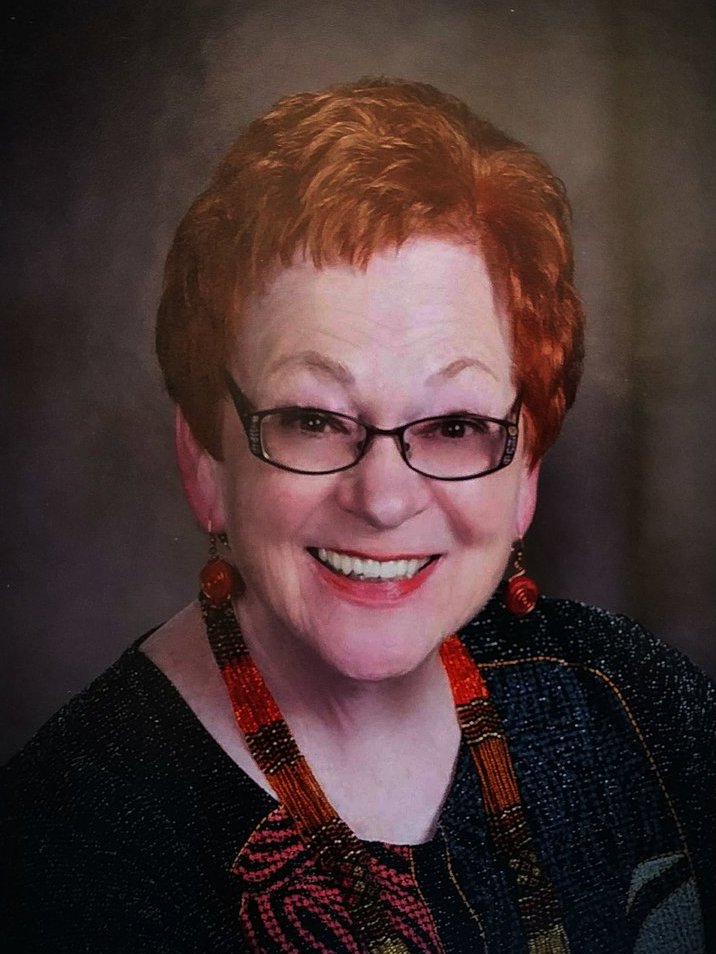 Jane Natalie Britton, 73, of Pacific Grove, Calif., passed away March 21, 2019, following a courageous battle with lung cancer. Jane was born in Dickinson, N.D., in 1945. She graduated from Dickinson Central High School in 1963. Jane attended Cottey College for Women in Nevada, Mo., and then earned a BA in English Literature and a Masters in Speech Pathology from the University of Redlands in Redlands, Calif. Jane was hired by the Pacific Grove School District as a Speech Therapist in September 1968, serving the district for 38 years. After retirement, she continued to live in Pacific Grove, making it her home for more than 51 years. She was active in a wide range of volunteer activities in the Monterey Bay community. She especially enjoyed her time as a Docent (volunteer guide) at the Monterey Bay Aquarium. She also ushered and did other volunteer work at Pacific Repertory Theatre in Carmel and ushered for the Symphony and other programs at Sunset Center, and for plays at Monterey Peninsula College. She led various groups from the Carmel Foundation to see productions in San Francisco. Jane was also active in the American Association of University Women.
Traveling the world and our nation was Jane's passion. She made her way to six continents. She taught for a year in Japan and traveled much of the country. Jane liked to be an early visitor of the less-traveled countries like China, Cuba and the Soviet Union and was impressed by the social advances she observed there. Reflecting her interest in politics, Jane became a member of the Women International League for Peace and Freedom, marched against war and for civil rights, and attended the Unitarian Universalist Women's Discussion group. She was a greeter for the UU church and was active in the UU Women and Religion Movement, attending many functions with a dear friend, the late Rosemary Matson. Jane read widely, accumulating a library of thousands of books.
Jane was preceded in death by her parents, Lowell and Ruth Britton, and brother-in-law Clay McGonagill. She is survived by her brothers, Jon (Susan) Britton, Joel (Betsey) Britton, Gene (Marcia) Britton, her sister Julie (Dallas) Wireman, and her nephew, Mack McGonagill (Laura, fiancé). Much appreciated has been the help extended to Jane and her family by Dr. Nancy Ruben, the UUC Caring Circle and Pastor Axel Gehrmann, and especially her close friend Linda Chetlin. Jane requested that her ashes be scattered off Lovers Point, Monterey Bay.
A celebration of Jane's life was held May 18, 2 pm, at the Unitarian Universalist Church, 490 Aguajito Rd, Carmel-By-The-Sea, Calif. 93923.
In lieu of flowers, donations in her memory can be made to Cottey College, the University of Redlands, or other organization of your choice.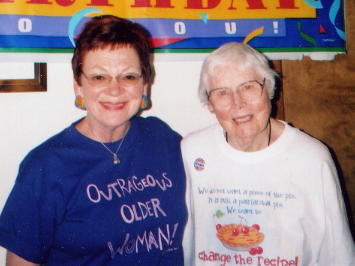 Jane with Rosemary Matson, displaying their special T-shirts. For many years they celebrated their birthdays together with friends.