All Unitarian Universalists are invited to submit a sermon (or address) to the UU-United Nations Office (UU-UNO). The topic this year should address "Empowering Women for a Better World."
While all submissions will be considered, those highlighting the work of the United Nations and the UU-UNO will be given priority consideration. The winner will be awarded a cash prize of $1,000 and will have the opportunity to deliver the sermon or address at the next UUA General Assembly.
Send submissions by February 1, 2012 via email to greeleysermon@uu-uno.org. For more information, visit the UU-UNO's website.

The following materials have been compiled to provide an overview of Consensus Decision Making, including definitions and suggested procedures. -- Nancy Irons, a past member of W&R in CMwD.
Consensus decision-making is a group decision making process that not only seeks the agreement of most participants, but also the resolution or mitigation of minority objections. This strategy involves everyone playing a role in the decision making of the group. In order for this to be successful it is important to be open to compromise!
Consensus is usually defined as meaning both general agreement, and the process of getting to such agreement. Consensus decision-making is thus concerned primarily with that process.
While not as common as other decision-making procedures, such as the parliamentary procedure explained in Robert's Rules of Order, consensus is used by a wide variety of groups. Religious denominations such as the Quakers. . . .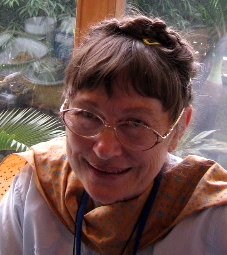 Walhonding Road, at the end of my street, is my pre-dawn destination for not-so-regular walks. Why? The urban symbolism of what I experience there gives my day's work, usually for social change, much inspiration. It reminds me that sustainability is at the heart of any workable action plan. It reminds me to endure without giving way to power-over circumstances that can control my "balance", "expressiveness," "playfulness" and "openess to spirit." (Note – all words in quotes come from a "Cakes for the Queen of Heaven" resource, Carol Lee Flinders' Rebalancing the World's Belonging Values list.)
I seek to live with others in the pre-patriarchal forager ways (a redux for today's needs.) It can be achieved by partnering with consensus decision making that employs complementarity, "mutuality" and "inclusiveness," "generosity", "deliberateness", "egalitarianism", "non-violent conflict resolution" (or management), and "self-restraint." For my additional spiritual guidance, my Walhonding Road experience sparks awe-filled awareness of my "connection with the land", my "empathic relationship to animals", and to be a helpful inhabitant in my part of Earth's biosphere, supporting healthy growth in the natural world ("custodial conservatism" which includes the motto, "What you have, you share.")
These days many factors are often involved in making decisions, so that "ordinary deductive reasoning processes aren't equal to the task." So, with "affinity for alternative modes of knowing", I try "to allow intuitive wisdom to come to the surface." (Flinders quotes, again, to complete the Belonging Values list) All the Occupy consciousness raising brings a different national dialogue to the surface.